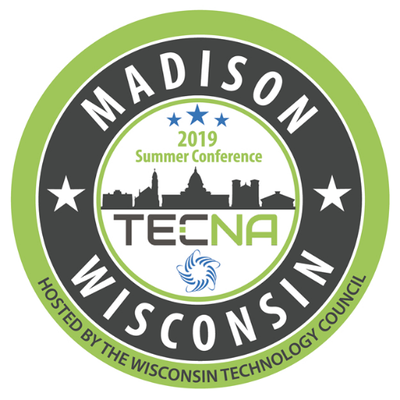 A new Canadian initiative to bring in skilled tech workers from all over the world has granted about 24,000 visas in the past two years.

Doug Robertson is president and CEO at Venn Innovation, a technology association in the Canadian province of New Brunswick. He describes the skills initiative as a "global talent stream for skilled occupations in shortage, and for employers with unique talent needs."

As chairman of the board of directors for the Technology Councils of North America, he addressed attendees of the 2019 TECNA Summer Conference in Madison this week.

"It's really quite striking," he said. "In a population that would otherwise be shrinking — because we're not making as many babies as we are dying — immigration is a pretty important piece of the economic puzzle."

The Canadian TECNA talent initiative was first piloted two years ago and was recently made a permanent feature of the country's immigration system. Robertson explains it included some changes to work permit exemptions for certain workers, making it easier for companies to hire desirable employees before they're snapped up elsewhere.

In the past two years of the program, more than 1,100 Canadian companies have used the global talent stream, Robertson said. And about 16,000 family members have come along with those recruited through the program.

About 25 percent of the workers came from the United States, though the majority came from India.

Canadian employers using the talent stream have committed to creating 48,000 jobs and more than 12,500 paid co-op positions, and have dedicated more than $113 million to skills development and training, according to Robertson.

He said the most successful candidates in the program often have experience with information systems, in positions such as analysts and consultants, software engineers, computer programmers and interactive media developers.

"We think it's been effective," he said. "We're still working with our government partners and friends in the provincial government to try to find ways to continue to improve it."

The program was conceived in 2016, after the Canadian federal government released its key priorities for the budget for that political cycle. That economic priorities statement "put a real spotlight on innovation," Robertson said, as well as immigration policy.

"Obviously we've all been dealing with talent as a big issue," Robertson said. "And the government was reaching out to organizations like ours and others around the country to come in with big ideas — audacious ideas to help advance the objectives of their innovation strategy."

At the time, the Canadian members of TECNA came together to draft a submission, quickly zeroing in on a talent-focused immigration program.

Robertson says Canada has "somewhat of a more progressive policy framework" for immigration than the United States. Still, he said Canadian tech association leaders were hearing from their members that certain policies related to foreign workers were cumbersome — especially for smaller tech companies.

The initial proposal for the program was drafted by Communitech, a tech association in the Canadian region of Waterloo. After discussions with officials, the formal proposal was submitted in July 2016.

In December of that year, he says officials informed TECNA that the group's proposal would be started the next year with some small tweaks. It was formally launched in June 2017 as a two-year pilot program, and was made a permanent policy and program this summer.

All of the Canadian TECNA members act as referral partners to the program, identifying potential companies and ensuring they meet the criteria to apply.

See an earlier story with comments from Robertson: http://www.wisbusiness.com/2019/tecna-summer-conference-to-highlight-tech-industry-issues-in-madison/

See more coverage from the conference: http://www.wisbusiness.com/2019/tech-associations-across-north-america-working-to-strengthen-talent-pipelines/
–By Alex Moe
WisBusiness.com