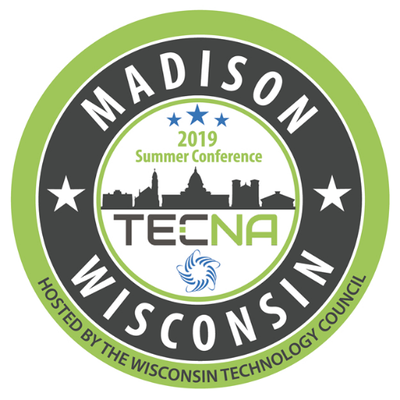 A three-day conference in Madison this week will highlight the most impactful trends and policy challenges facing tech companies.

That's according to Doug Robertson, chairman of the board of directors for the Technology Councils of North America. The 2019 TECNA Summer Conference is being hosted by the Wisconsin Technology Council today through Thursday.

"This will be an opportunity to hear first-hand from people who are immersed in the dynamic industry that is tech," Robertson told WisBusiness.com. "We're going to talk about initiatives that we're delivering to help our companies grow. … We learn from each other at conferences like this."

Aside from his board position with TECNA, he's also the president and CEO at Venn Innovation, which is active in the Canadian province of New Brunswick. He explains that in Canada, all the TECNA groups are not-for-profit, and generally have a higher level of government funding than their U.S. counterparts.

But while approaches to funding and economic development vary, he says "we're all in it for the same goal — to help tech companies grow."

At TECNA's recent CEO meeting, Robertson said various leaders were having productive conversations about increasing diversity and inclusion in the workforces.

"It's not just more women, which is of fundamental importance, but it's the larger diversity thrust we have to embrace," he said.

Robertson has been with Venn Innovation since it began as a local effort in 2010 and later looked to the entire province of New Brunswick.

In that time, he's seen the population grow steadily more diverse. He says this process was driven by "progressive immigration policies" put in place by the Canadian government that continually brings new skills into the regional mix.

For the first time this year, TECNA will be handing out innovation awards to individual employees of member groups across North America. He said this award initiative was kicked off last year, when he began his term as board chair.

"It's time we recognize the work they do, both for the councils and for companies," Robertson said. "They're doing the work, and they will get the recognition. I'm excited as can be about that."

Robertson will speak Wednesday on an afternoon panel focused on success stories in the public policy arena. Like the Tech Council in Wisconsin, Venn advocates on behalf of the tech industry to improve the climate for startups and other companies.
"It's essentially an opportunity for a few of us to share stories about policy efforts, initiatives that we've done," he said.

He plans to talk about a global skills effort undertaken by TECNA groups across Canada, aimed at bringing in more international talent to sustain the regional workforce. The program was introduced as a pilot two years ago and was recently made a permanent program in June.

Robertson explained the program greatly accelerates the time it takes for Canadian companies to hire "top talent" from nearly anywhere in the world.

Wisconsin's ongoing workforce woes are mirrored in much of Canada and other places in the United States, Robertson noted, adding this issue touches "all sectors, not just tech."

The panel featuring Robertson and others on policy success stories will be held Wednesday afternoon at Epic Systems in Madison.

See the full conference agenda here: http://tecna2019.com/agenda/
–By Alex Moe
WisBusiness.com