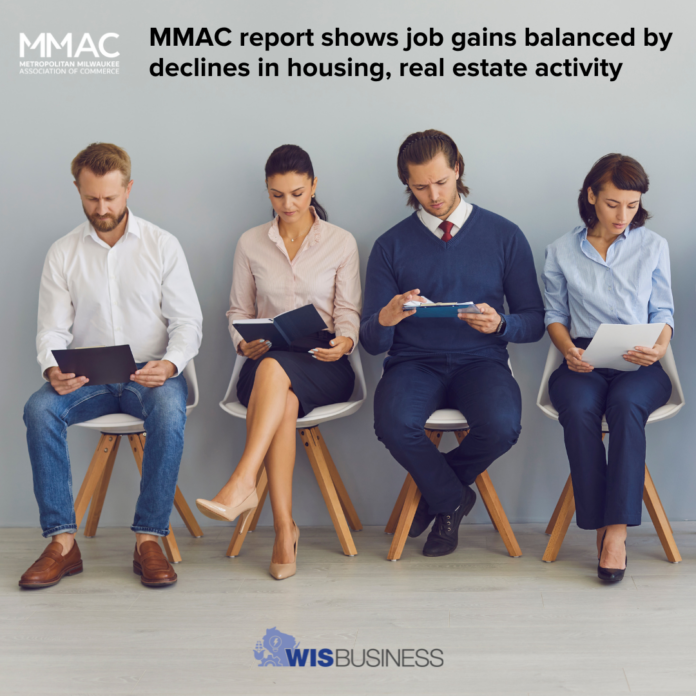 Figures tracked by MMAC are showing a "slow, steady path upward" for Milwaukee's economy, according to the group's latest economic trends report.
The Metropolitan Milwaukee Association of Commerce yesterday released its June report, showing 14 of the 23 factors included in its analysis saw year-over-year improvements that month.
While that's slightly lower than the 15 positive indicators from the May report, MMAC Vice President of Economic Researcher Bret Mayborne noted year-over-year job growth in the metro area "reached its strongest level in eight months led by strong gains in the leisure and hospitality and government" sectors.
Still, he added area housing and other real estate indicators "continue to post sizable declines" driven by higher interest rates. Existing single-family home sales dropped 23.9 percent to 1,399, while mortgages recorded in Milwaukee County declined 21.2 percent.
MMAC found seven of the area's 10 major industry sectors added jobs over the year in June, with leisure and hospitality leading the pack with a 5.4 percent increase. The largest decline was seen in professional and business services, with 3.3 percent.
Meanwhile, manufacturing and production employment trends were "mostly positive," the report shows. Employment in this sector grew 0.9 percent in June, marking the 27th month in a row of job gains.
And while the length of the average workweek for these employees declined 2.6 percent over the year to 34.1 hours on average, average hourly earnings and average weekly earnings rose 9.7 percent and 6.9 percent, respectively.
See the full report: https://www.wisbusiness.com/wp-content/uploads/2023/08/June-2023-trends.pdf