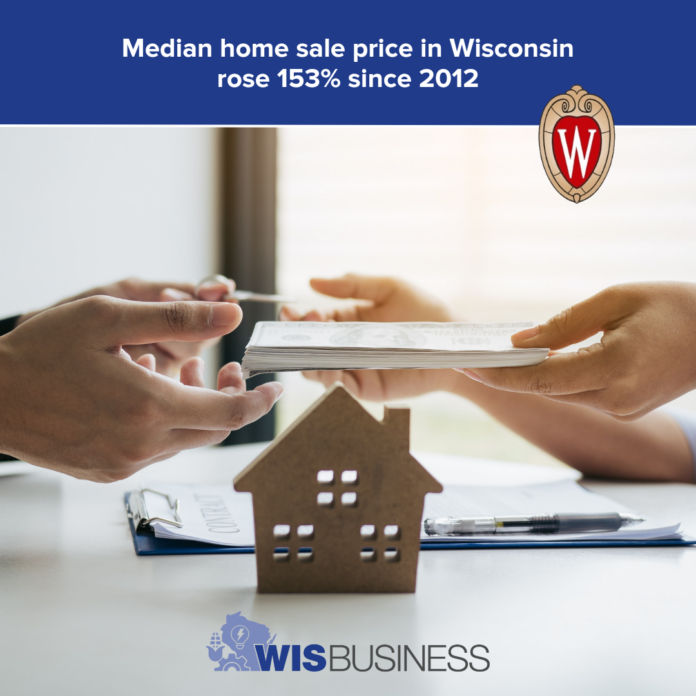 The median sale price for homes in Wisconsin has more than doubled over the past decade, according to a new report from UW-Madison's Division of Extension.
The report was authored by Prof. Steven Deller, an economist in the university's Department of Agricultural and Applied Economics.
Between April 2012 and April 2023, the median sale price in the state skyrocketed from $112,800 to $285,500 — an increase of 153.1 percent.
"For the homeowner, this represents a remarkable increase in wealth but for potential buyers, particularly first-time buyers, this increase creates financial stress," Deller wrote.
He notes the supply of new housing in Wisconsin hasn't kept up with growing demand over this period, driving up home prices for both owners and renters alike. While the affordable housing shortage often comes up in discussions of the state's top economic challenges, Deller says the problem isn't unique to Wisconsin "and is indeed a national concern."
The report includes a breakdown of month-to-month growth rates for the median sales price among Midwest states. Between 2012 and 2023, that rate was 0.89 percent for Wisconsin, 0.72 percent for Illinois, 0.56 percent for Iowa, 0.75 percent for Minnesota and 0.95 percent for Michigan.
Out of those states, only Iowa had a lower median sale price than Wisconsin in 2012. But by this year, only Minnesota had a higher median price than Wisconsin, Deller found.
He highlights a number of other factors driving housing shortages, including current homeowners with low interest rates being hesitant to give those up, and builders being unwilling to construct "starter homes" due to profit margins for higher-end homes being more attractive.
"Beyond the costs of building materials, the shortage of skilled construction workers (e.g., carpenters, plumbers, electricians) is contributing to not only constraints on new construction but also underlying costs," he wrote. "The current 'housing crisis' is a national one and efforts to address this issue at the local and regional level will be challenging."
See the full report: https://economicdevelopment.extension.wisc.edu/2023/06/20/wisconsins-housing-dilemma/