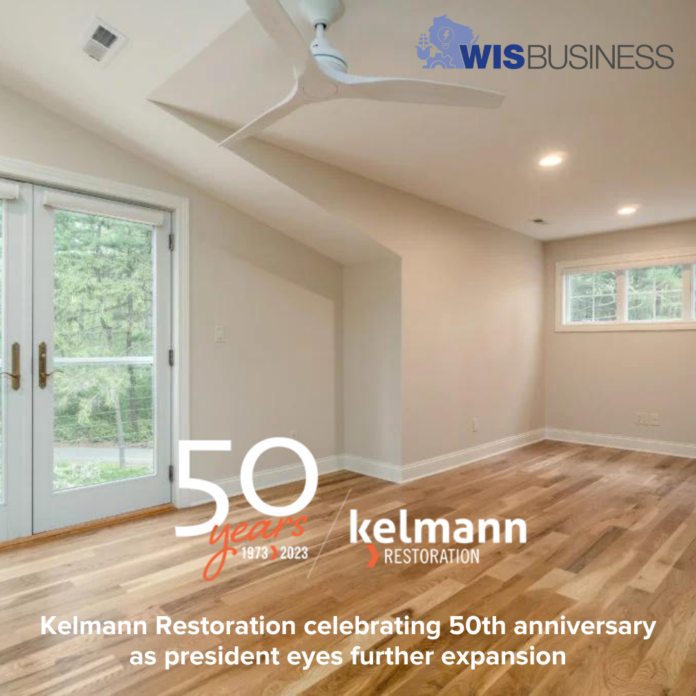 Kelmann Restoration President Tom Kelly aims to expand the company's footprint statewide, building on a legacy established over five decades of doing business in Wisconsin.
The Wauwatosa-based company this week is celebrating its 50th anniversary. It was founded in 1973 by Tom's father, Jerry Kelly, and business partner Dick Niggemann as a property management and maintenance firm, but later turned to its current core business of disaster cleanup and property restoration.
"This year specifically will be bittersweet, because it also marks the five-year anniversary of my father's death," Kelly told WisBusiness.com yesterday in an interview. "In the last five years, our company has doubled. And it was on a lot of the foundation, and the morals, and the principles and the lessons he instilled in all of us."
According to Kelly, the company has always sought to treat its customers like family, with a focus on respect, understanding and hard work.
The business has now grown to nearly 100 employees, with two locations in Wauwatosa, one in New Berlin and another facility that opened recently in Sheboygan. It currently services the area between Madison and the shore of Lake Michigan, down to Kenosha and Racine and up to Green Bay.
"Our stated goal is to be able to cover the whole state, so we're heading northward," Kelly said.
Kelmann Restoration has served about 41,000 customers since it launched, and currently sees between 2,000 and 3,000 customers per year, most of which hear about the company by word-of-mouth. Its clients include owners of properties hit by fire, flood, wind or other natural disasters, as well as those looking to remodel or needing assistance with an insurance claim.
While the company's revenue is split fairly evenly between residential and commercial customers, Kelly said, most of the jobs it takes are for homeowners.
"We've seen immense growth over the last 10 years in that commercial space as we've grown as a company," he said, noting school districts represent another growing customer base for the business.
Kelly expects much of the company's future growth will be in this area. As the business continues to expand in the state, Kelly aims to provide more community-level support through the Kelmann Cares Foundation, a nonprofit entity launched in 2020.
"We support a lot of local and statewide initiatives, and I'm really proud of the team for that," he said, adding he expects to see a lot of growth in both the foundation and the business overall.
The company is hosting an open house event tomorrow evening in Wauwatosa to celebrate its 50th anniversary, featuring food, drinks and live music.
See event details: https://www.wisbusiness.com/wp-content/uploads/2023/09/Kelmann-Restoration-50th-Anniversary-Press-Release.pdf
See more on the company here: https://www.kelmann.com/ 
–By Alex Moe