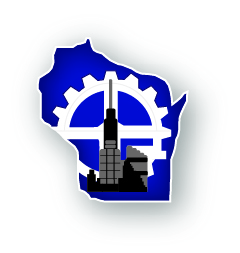 Construction industry advocates and some local officials are calling for deregulating new home construction in Wisconsin, along with other potential solutions to the state's shortage of affordable housing.
"In most communities today, you can't build the kind of housing that we all grew up in — at least in my generation," Wisconsin Realtors Association President and CEO Mike Theo said yesterday during an event hosted by Competitive Wisconsin in West Bend. "You can't build that kind of housing that you would call either workforce housing or affordable housing, if you will."
He argued the layers of regulations on new construction are "uneconomical" for builders to meet demand for this type of housing.
"Minimum lot sizes, setback requirements, zoning that only allows certain kinds of housing and not other kinds of housing, needs to be deregulated to the point that it makes it economic to build the kind of housing the marketplace needs," he said.
Kurt Paulsen, a professor of urban planning at UW-Madison, noted housing construction and subdivision activity in the state never truly recovered from the Great Recession. As new home construction has failed to keep pace with population growth, a greater share of young people in particular are renting rather than owning a home.
"Amongst all of our neighboring states, we have the highest rate of rental cost burden for our lowest-income workers … we have over 146,000 renter households in this state who are paying more than 50 percent of their income in rent," he said.
Part of the problem, Washington County Executive Josh Schoemann said yesterday, is the cost of building a new home is exacerbated by government regulations. He agreed with Theo that these costs are hindering affordability, arguing such regulations add up to $90,000 in cost per new house being built.
"That is 50 years of zoning and subdivision regulations stacked year over year … this compounding effect that is worse than compounding interest," he said. "To Mike's point earlier, I think the beauty is, we built this monster. We can un-build it, or parts of it."
Belman Homes President David Belman also called for more construction industry deregulation, arguing developers currently shoulder an undue burden in the development process.
Meanwhile, Wisconsin Builders Association Executive Director Brad Boycks called for streamlining the process for creating new developments, noting "things shouldn't take as long as they do." He said allowing smaller lot sizes, narrower sidewalks, and reduced or eliminated impact fees would help incentivize more affordable workforce housing.
Theo also highlighted a "short-term opportunity" to convert excess empty commercial space into residential use. He said incentives and zoning and regulatory changes could help transform that unused space into multi-family condominiums or rentals.
Wisconsin Bankers Association President and CEO Rose Oswald Poels spotlighted the role of down payment assistance programs in lowering the cost of homeownership. She said the more government funding that can be allocated to such programs, the better.
"These young adults are in really expensive — crazy expensive — rental units, and they can't save for a down payment … those types of programs I think is where the government can play a good role," she said.
Schoemann also discussed a Washington County plan aimed at providing affordable housing to local residents, with funding from the American Rescue Plan Act playing a role. He touted the Next Generation Housing Initiative as a good example of a public-private partnership.
According to a framework document at the county's website, the initiative's main goal is to create 1,000 new owner-occupied units in specified developments, with 75 percent selling for under $320,000 and 100 percent selling for under $420,000 by 2032. The county is providing $6.75 million through its Next Generation Housing Fund for three pilot developments in the villages of Hartford and Jackson and the city of Hartford, the document shows.
"From the time that we started in October of '21, to the time that we're going to hopefully, God willing, hand keys to people, will be March or April of 2024," Schoemann said. "And that's us working in partnership with the municipality. That's got to get lots faster."
Watch the full event here: https://wiseye.org/2023/02/27/wisconsin-tomorrow-action-accelerator-on-workforce-housing/
See more on the Washington County initiative here: https://www.washcowisco.gov/departments/community_development/next_generation_housing
–By Alex Moe