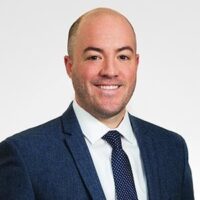 This week's episode of "WisBusiness: the Podcast" is with Nathan Houdek, the state's Commissioner of Insurance.
He discusses some of the reasons that higher enrollment numbers were seen during the latest open enrollment period in Wisconsin. Federal figures show 212,209 Wisconsinites signed up for health insurance through Healthcare.gov between Nov. 1, 2021, and Jan. 15, 2022. That's the highest that number has been since the enrollment period for 2018.
Houdek attributes the higher enrollment figure to three main factors, including the coverage partnership between the Office of the Commissioner of Insurance and the state Department of Health Services established in 2019 by Gov. Tony Evers.
"That's really helped us develop smarter messaging, helped us coordinate our outreach and marketing efforts, and to build a network of supporters that really help encourage enrollment," he said.
Other factors include $2 million in new funding provided by Evers last year to Covering Wisconsin, the state's main navigator organization, and more health care coverage subsidies created by the American Rescue Plan Act.
"We saw more affordable health care coverage options available for more people, and that was really beneficial as people were shopping for coverage during this past open enrollment period," he said.
He also addresses the trend seen before this year, in which enrollment numbers in the state had been declining year-over year. And he touches on efforts by health insurance navigators in the state, including some of the challenges they face during the COVID-19 pandemic.
Listen to the podcast below, sponsored by UW-Madison: