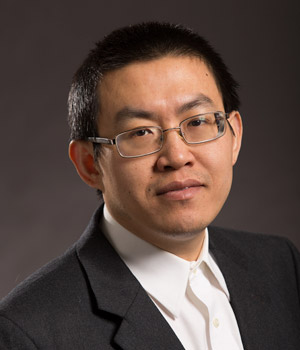 A UW-Milwaukee engineer aims to introduce a new cheaper and more accessible hearing aid to the market next year.
Yi Hu is an associate professor of electrical engineering at UWM and founder of a startup called My Hearing Care. He has created a prototype over-the-counter device that, when paired with a smartphone app, would allow patients to test their own hearing and adjust the device to meet their needs.
"The major factor that a hearing aid is very expensive is because of the medical exams involved by the audiologist," he said in a recent interview. "If you don't visit the audiologist, then the price will be much lower … that removes the barrier to use the hearing aids."
According to the Department of Health Services, adults in Wisconsin can currently purchase traditional hearing aids from an audiologist or hearing instrument specialist, while children under 18 must be seen by an audiologist. DHS says federal officials in October 2021 proposed regulations for over-the-counter hearing aids and have been in the process of gathering feedback before issuing final guidance.
"These devices are not yet available and will be intended for those with mild to moderate hearing loss, similar to non-prescription reading glasses," DHS said in a statement to WisBusiness.com. "Concerns raised relate to people getting hearing aids that may or may not meet their needs without appropriate hearing evaluations."
Hu said he expects the Food and Drug Administration will release the guidelines on these products in the near future and has been preparing for a 2023 product launch in Wisconsin in the meantime.
"At this moment, we really don't know how the guideline looks like," he said. "For the new over-the-counter hearing aids, I think the FDA probably will issue some guideline for how the efficacy will be evaluated. For instance, maybe they will require hearing aid companies to submit some clinical trial data."
If that's the case, Hu says My Hearing Care will need to conduct clinical trials to show the device can improve patients' hearing ability. For now, he says he's consulting with mentors and raising seed funds for the business. He has also created an Android app to go along with the device and is in the process of creating an iPhone app as well.
He said his entry-level device will ideally be priced below $150 and marketed as a lower-cost option for those with hearing loss.
Hu estimates less than 20 percent of people who would benefit from hearing aids are currently using them. He says the forthcoming FDA guidelines "could really open up" the market for over-the-counter products.
Hu has been researching assistive hearing technology for over 20 years, starting with work on cochlear implants as a doctoral student. He said the challenge of accessibility drove him to explore hearing aid technologies, as well as his own grandfather's struggles with hearing loss.
"Along the years, I learned more and more about hearing aids," he said. "In 2015, NIH issued some documents showing that accessibility is an issue that prevents American adults with mild to moderate hearing loss to access hearing aids. That gave me more motivation to get into this field." 
–By Alex Moe