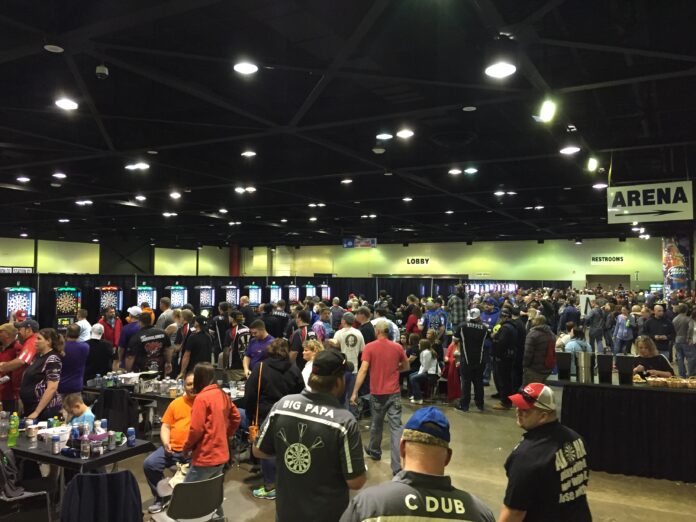 Organizers for the annual State Dart Tournament are hopeful this year's competition will be the largest in its nearly 40-year history.
"By the entries that I have in so far, we're up about 10 percent from last year," said Dale Saunders, of Appleton, who's been the tournament director since 1984. "At this point, I have 908 teams registered … last year we had 800."
The tournament, organized by Wisconsin Amusement and Music Operators, has been held each year since then, except for 2020 when it was canceled due to the pandemic. In a recent interview, Saunders said last year's event in Green Bay brought in over 10,000 visitors, while this year it's expected to draw as many as 11,000.
He noted the tournament has been growing "almost every year" since its inception. If not for the pandemic, this year's event would have been the 38th in a row, he said.
The 2022 tournament will be held in the Wisconsin Dells between May 18-22. Participants must have played at least 60 games in a WAMO-sanctioned league prior to the tournament, which usually includes about 21 divisions of teams organized by prior performance, according to WAMO Executive Director Amanda Soelle.
She says the group needs about 65,000 square feet for the tournament, which typically rotates between La Crosse, Green Bay and the Wisconsin Dells. Plus, the host city needs to have enough nearby hotels to handle the influx of players and their families.
"The last time that we were in Green Bay, their economic impact that they gave us was $3.1 million for the city, just for our tournament being there for a week," Soelle said.
Mike Weigel, of Brookfield, is the event committee co-chair. He highlighted the economic impact for nearby bars and restaurants.
"Whenever you go to La Crosse, it's a college town anyways, but you'll see signs in all the bars' windows, 'welcome darters,'" he said. "They host their own little in-house tournaments in the evenings and afternoons for other people who aren't shooting in the league … so it's actually great for all the other businesses."
Along with negotiating venue contracts, the committee is tasked with coordinating vendors of beer and liquor, as well as others selling products like t-shirts and jerseys. He said this organizing work begins nearly six months before the actual tournament, though he noted Saunders works on coordinating the event nearly year-round.
"This would not run without Dale, or as smooth as it does," Weigel said. "My hat's off to everything he does. It's absolutely astounding how much work he gets done."
He added that while the tournament attracts some of the best dart players in the world, the dart community is "very friendly" and open to newcomers. Weigel recommends anyone who's interested in joining next year's tournament should get involved with one of the local leagues.
"Darts is a really, really big thing in our state, so we're lucky enough to be doing this in the state of Wisconsin," he said. "But I mean there's guys here that are hitting three bullseyes — which is a hat-trick — every round. I've witnessed a couple perfect games … it's amazing how good these division one shooters are." 
–By Alex Moe