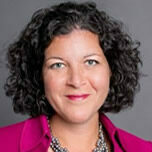 PSC Chair Rebecca Cameron Valcq says about 650,000 Wisconsin residents still lack access to broadband infrastructure and a similar number can't afford it.
Appearing yesterday in a WisconsinEye interview, Valcq provided an update on Wisconsin's efforts to expand broadband access to more state residents. Since 2019, the state has invested nearly $200 million to connect about 300,000 more residents and businesses, she said.
Despite that progress being made, the latest estimate of residents lacking broadband is higher now than last year, when state officials estimated about 400,000 residents didn't have access to high-speed broadband internet.
"That's because as we get more data in about coverage at the granular level, we're able to drill down and better estimate how many people don't have that access," Valcq said. "We need to be able to use the funding available to us at the PSC as more of a scalpel approach, to make sure we're really, really honing in on the areas that still lack that access."
Broadband access varies widely across the state, though a PSC map shows fixed internet speeds tend to be lower in areas scattered around the northern half of the state. Valcq noted both urban and rural parts of Wisconsin face their own challenges with boosting broadband.
The latest state biennial budget allocated $129 million to broadband expansion, while Gov. Tony Evers added another $100 million in federal funds to that effort. The PSC recently announced it received 194 applications requesting about $495 million through the state's Broadband Expansion Grant Program and will be awarding $100 million in grants this summer.
"So the need continues to be there," Valcq said. "I have said and I will continue to say, this is more than just a money problem. We have to come up with ways to be innovative."
While Valcq noted fiber connections remain "the gold standard" for broadband infrastructure, she added it's not a feasible option for certain areas of the state. She said that's where technologies such as satellite internet and fixed wireless options come into play.
In rural parts of the state, she explained the topography and sparse population density remain a major challenge. She said that's why "we haven't seen a lot of really active or robust investment" by internet service providers, as it takes longer for them to get a return on their investment.
At the same time, more populated parts of Wisconsin are limited by infrastructure "that isn't up to what it should be," including places like Brown, Dane and Milwaukee counties, she said.
"We hear all of the time, yes the infrastructure is there but we're not able to stream," she said. "We're not able to participate in teleworking, or our kids aren't able to attend school virtually. That's an access issue."
Watch the full interview here: https://wiseye.org/2022/03/28/newsmakers-public-service-commission-updates-with-chairperson-valcq/
–By Alex Moe