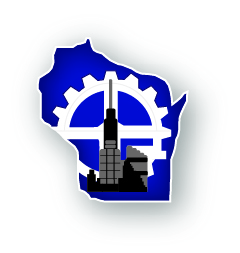 Downtown development leaders for Madison and Milwaukee say business is booming in the state's two largest cities as each continues to rebound from the pandemic lull.
"Now is the time to really say, everyone in the community, let's bet on downtown Madison, let's bet on downtown Milwaukee, as a true economic development generator for the entire region, because this is where the action happens," Downtown Madison President Jason Ilstrup said yesterday during a Wisconsin Policy Forum luncheon event in Milwaukee. "This is where people want to be."
Beth Weirick, CEO of Milwaukee Downtown, highlighted "overwhelming confidence" among both employers and real estate developers in the city's downtown area. She pointed to the area's relatively low residential vacancy rate as a great asset, as well as a challenge for the city.
"We have one of the lowest vacancy rates in the country, like 2.4 percent, and I guess the median is around 7 or 8 [percent] so it tells us that there's definitely a market there for more housing," she said. "Whether it's commercial investment or residential investment, it's happening."
Ilstrup noted Madison has 4,000 apartment units slated for construction in the downtown area, as well as 600 hotel rooms, with projects from both local developers as well as others from across the country.
He also said major employers in Dane County that don't have a presence downtown, such as Epic and Exact Sciences, are "really understanding how important downtowns are" for their own success and recruiting. He said electronic health records company Epic, which has about 12,000 employees, plans to hire about 4,000 more this year.
"They believe that a quarter of their workforce — so 3,000 people — live in the downtown, so they understand how important the downtown is for recruiting that 22-26 year-old talent," he said.
Milwaukee Department of City Development Commissioner Lafayette Crump gave an overview of the city's evolving downtown plan at yesterday's event. He noted the previous plan ended in 2010, and most projects identified under that framework have been completed.
The department is currently taking public comments on the next plan, and has gotten more than 1,500 comments so far from over 800 people hailing from all but one of Milwaukee's ZIP codes. Crump said the plan will include expanding transportation options including public transit, making the city more walkable and bikeable, and doubling down on environmental, social and economic sustainability.
"It has to be ideas that can stick around, that are really making an impact for years to come," he said. 
–By Alex Moe