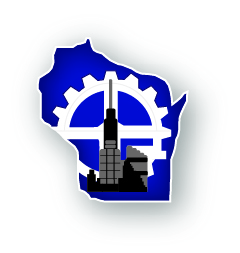 Counties in northern Wisconsin continue to see more COVID-19 deaths on a per capita basis, the latest data from the Department of Health Services show. 
While the more populated areas of the state have higher cumulative death counts from the virus, rural counties in Wisconsin's northern half have generally seen more deaths per capita.
Iron County, which has a population of just 5,687, has the highest COVID-19 death rate in the state with 791.3 per 100,000 residents. The second highest, Forest County, has a population of 9,004 and a death rate of 522 per 100,000.
By comparison, the state's two most populous counties — Milwaukee and Dane — have much lower death rates. With a population of 945,726, Milwaukee County has a death rate of 212 per 100,000 residents. And Dane County, which has 546,695 residents, has among the lowest rates in the state at 84.9 per 100,000 people.
But a number of counties don't fit the population trend, the DHS site shows. The county with the lowest death rate at 84.4 deaths per 100,000 is Buffalo County, which has a relatively small population of 13,031. And Racine and Kenosha counties — both in the top 10 Wisconsin counties for population levels — have death rates of 312.3 and 343.2, respectively. These rates are relatively high compared to most other counties in the state's southeast region.
See the full list of county death rates per capita below, and see a map from DHS displaying this information here. 
See an earlier related story.
| | |
| --- | --- |
| County | Cumulative deaths per 100,000 population since 3/15/20 |
| Adams | 237.4 |
| Ashland | 199.2 |
| Barron | 289.5 |
| Bayfield | 246.1 |
| Brown | 167.5 |
| Buffalo | 84.4 |
| Burnett | 253 |
| Calumet | 209.6 |
| Chippewa | 258.3 |
| Clark | 327.8 |
| Columbia | 206.8 |
| Crawford | 173.6 |
| Dane | 84.9 |
| Dodge | 335.8 |
| Door | 198.8 |
| Douglas | 166.9 |
| Dunn | 145.5 |
| Eau Claire | 165.3 |
| Florence | 349.2 |
| Fond du Lac | 210.8 |
| Forest | 522 |
| Grant | 270.2 |
| Green | 132.6 |
| Green Lake | 312 |
| Iowa | 105.6 |
| Iron | 791.3 |
| Jackson | 198.6 |
| Jefferson | 246.6 |
| Juneau | 224.8 |
| Kenosha | 343.2 |
| Kewaunee | 269.2 |
| La Crosse | 132.2 |
| Lafayette | 126 |
| Langlade | 390.8 |
| Lincoln | 474.8 |
| Manitowoc | 214 |
| Marathon | 335.3 |
| Marinette | 255.3 |
| Marquette | 308.2 |
| Menominee | 285.3 |
| Milwaukee | 212 |
| Monroe | 168.6 |
| Oconto | 258.4 |
| Oneida | 348.4 |
| Outagamie | 180.4 |
| Ozaukee | 162.5 |
| Pepin | 233.3 |
| Pierce | 156.7 |
| Polk | 262.7 |
| Portage | 207.7 |
| Price | 209.7 |
| Racine | 312.3 |
| Richland | 226.1 |
| Rock | 204.5 |
| Rusk | 331.5 |
| Saint Croix | 147.8 |
| Sauk | 158.3 |
| Sawyer | 332.2 |
| Shawano | 305.6 |
| Sheboygan | 233.2 |
| Taylor | 319.5 |
| Trempealeau | 195.6 |
| Vernon | 272.5 |
| Vilas | 374 |
| Walworth | 249.4 |
| Washburn | 248.1 |
| Washington | 208 |
| Waukesha | 233.5 |
| Waupaca | 462.8 |
| Waushara | 319.1 |
| Winnebago | 200.7 |
| Wood | 275.3 |
Data source: Wisconsin Department of Health Services