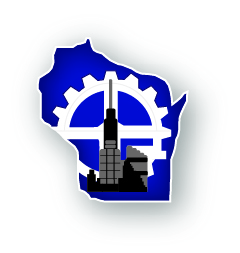 Higher COVID-19 death rates in rural Wisconsin counties illustrate how demographic trends, vaccine resistance and disparities in health care access are contributing to the pandemic's impact in the state.
An analysis of COVID-19 deaths in all 72 counties found that rural areas tend to have higher rates than urban ones, in line with national trends outlined in other studies. Dr. Ajay Sethi is an associate professor of population health sciences at UW-Madison who created the spreadsheet breaking down these numbers.
In a recent interview, he explained his review of the numbers was a simple statistical comparison of death rates without age adjustment. He said what he found "points to the urgency" of addressing public health challenges where the impact is greatest.
"It's important to recognize that people who are unvaccinated are experiencing the greatest rates of hospitalization and death," he told WisBusiness.com.
Of the counties with the five highest death rates by population size between Jan. 1, 2020 and Sept. 27, 2021, just one has a higher vaccination rate than the state average. According to the table created by Sethi, one in 146 people in Iron County had died from COVID-19 during that time. And 57.5 percent of county residents have completed the vaccine series, compared to 54.8 percent for the state's overall population.
Lincoln County, in which one in 268 people had died from the virus, has a fully vaccinated rate of 49 percent. Waupaca County, where one in 291 residents had died from COVID-19, has a vaccination rate of 48.2 percent. Forest County, where one in 296 had died, has a vaccination rate of 45.6 percent. And Florence County, with a death rate of one in 351, has a vaccination rate of 46 percent.
Although vaccination rates tend to be lower in rural counties than urban ones, it's not the only indicator for high death rates. Three rural counties with vaccination rates between 31 and 37 percent — Clark, Taylor and Rusk — had lower rates of COVID-19 deaths by population size than the counties listed above.
Other important factors include an older rural population, more comorbidities contributing to significant disease, and a lack of health care access. Tammy Simon, vice president of quality, innovation and patient safety for Marshfield Clinic Health System, points to a "huge deficit" of transportation and connectivity options in the largely rural area the system serves.
"Much of the tools we use — a symptom checker, going online for making appointments — is all done through computers, the internet," she told WisBusiness.com. "A large portion of our service area don't have that." 
She also noted rural parts of Wisconsin lack options for clinics and hospitals, as well as local pharmacies offering vaccines and COVID-19 tests. Both Simon and Sethi said many patients are waiting until they have severe symptoms to seek care, which can lead to worse outcomes.
Sethi said at this point in the pandemic, public health efforts should focus on communities with lower vaccination rates, working with local opinion leaders to continue "chipping away" at the number of people resisting being vaccinated.
"We've kind of moved from hesitancy to resistance," Sethi said, though he added people still are on the fence who can be convinced to get vaccinated. "Nobody should give up."
Still, Simon added that local public health departments serving rural areas often "don't have the funding" to provide services available in more densely populated regions.
She noted some rural areas have held pop-up locations for testing and vaccinations, but said "it's been a struggle" to meet the needs of residents. Another challenge is that urban communities tend to experience surges before rural ones, Simon explained, so supplemental staffing is often allocated to those areas first.
Sethi's data table combines totals for both cumulative and probable deaths and includes a section on deaths since the beginning of July, when the current delta variant surge began. Though the overall rate of COVID-19 deaths is lower in this surge than during the peak pandemic period late last year, counties with the highest death rates since July 1 are largely rural.
A total of 8,293 people in the state have died due to COVID-19 infections as of Oct. 19, according to the Department of Health Services.
See the data table here: https://bit.ly/3jkq0FT
–By Alex Moe