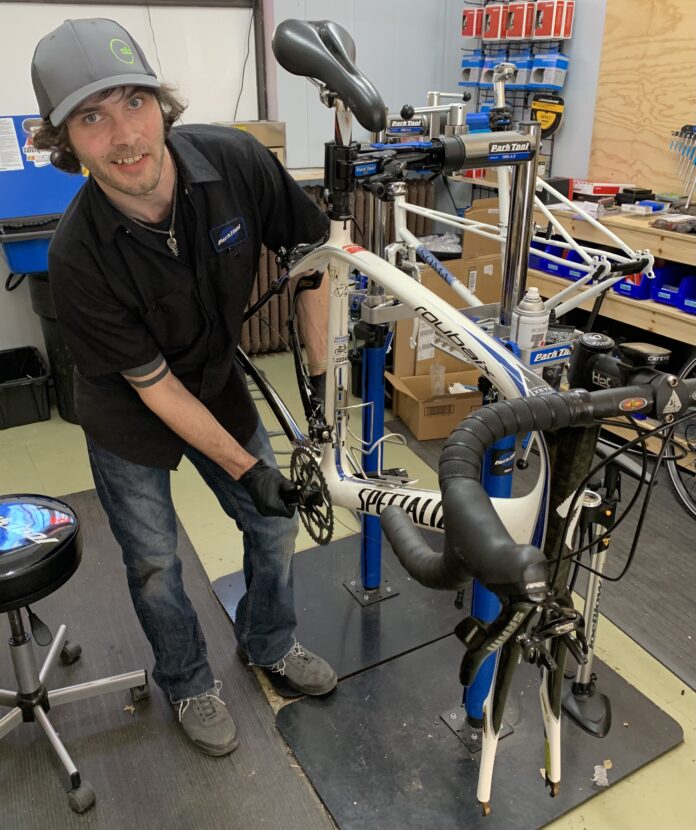 For nearly as far back as he can remember, Jay Feely wanted to own his own bike shop. Which may have had something to do with being hauled around in a cart behind his parent's bicycles as a youngster.
The 30-year-old Feely finally made that happen in April when he opened his store on the 2600 block of Monroe Street about one mile southwest of Camp Randall Stadium on the UW-Madison campus. The former racer is part of two pandemic trends — a rise in business startups and renewed interest in bicycling.
He calls Destination Bicycle a "community" shop, with many customers coming from the Dudgeon-Monroe and Vilas neighborhoods near Edgewood College and West High School. He sells Soma, Roll, Surly and All-City bicycles (the latter three Midwestern companies), gear and mechanical services.
"My parents and I rode the Sparta-Elroy bike trails and did trips all over Wisconsin," said Feely, who left a bike mechanic job to open his own storefront. "For their wedding, my dad gave my mom a bike."
Feely is just one of millions who have started their own businesses during the pandemic. According to the U.S. Census Bureau, 5.4 million people applied for small businesses licenses last year, a 53 percent increase from pre-COVID 2019.
The numbers were almost as high in Wisconsin, according to the Department of Financial Institutions. Officials said 71,151 new businesses were created last year, up from 50,277 in 2019 for an increase of 42 percent.
Dan Olszewski, director of the Weinert Center for Entrepreneurship at the UW-Madison School of Business, said Feely is one part of the "Great Resignation" trend in which people are quitting jobs to start their own companies.
"It's almost always the right time for the entrepreneur who has a good idea and sees an opportunity," he said. "And if their plans don't work out, there is no shortage of jobs to return to. Lots of people are hiring in lots of different areas."
Ian Oestreich is another one of those entrepreneurs, also in the cycling arena. After he was laid off from his Madison gym trainer job at the start of the pandemic, he opened Curbside Bicycles, a Dane County pop-up repair shop that has since expanded to Chicago — and the Scottsdale/Phoenix region of Arizona in the winters. He said the Twin Cities are next.
"Bicycling has boomed during the pandemic," said Oestreich, who returned to a former trade and launched his business out of the back of an SUV via word of mouth and social media.
"And I think it will continue to be strong, now that warm weather has returned," explained Oestreich, who said he did 1,500 tuneups last year.
"I didn't want to sit around and do nothing. I saw a need when I was in neighborhoods. People had a garage full of bikes that needed fixing or tuning up and they didn't want to take them to a shop.
"So I went to them, setting up at places like farmers' markets, breweries and businesses, offering tune-ups and repairs for a good price. It clicked."
Feely grew up in Cross Plains and later rode on the Cronometro Brazen Dropouts bicycle team. His first job, at age 15, was laying flooring at the Uphill Grind bike and coffee shop in Cross Plains, where he applied for a job three times before he was hired.
"The owner shrugged me off at first because he said what he needed was an experienced mechanic," Feely recalled. "The third time he was putting down flooring and I'd done that. So he gave in and hired me to help out.
"The deal was I'd learn how to do coffee and I could look over his shoulder while he fixed bikes. I loved it and it just took off for me."
After high school, Feely went to the United Bicycle Institute in Ashland, Ore. and earned a variety of mechanic's certifications. After returning to Madison, he worked for several shops before returning to the West Coast for a time.
His last job was as a mechanic at Revolution Cycles on Madison's Atwood Avenue.
"I think I took the mechanic gig about as far as I could take it working for someone else," he mused. "Opening my own shop was the next step."
Feely said acquaintances have stopped by the Monroe Street store to wish him well and told him "you'd been talking about this forever and you finally did it."
He said he and a silent partner picked Monroe Street after looking at other spots around the city.
"We wanted a location that was kind of away from other bike shops," he said. "I'm really community based, so being on this section of Monroe Street is a dream spot for me."
In part because some of the storefronts on Monroe Street were emptied by the pandemic — and still are — Feely said he was able to work out a good deal from his landlord.
"I did some bargaining, so the rent is relatively low at the start," he said of the space, which was once a bike shop known as Mike's Cyclery 30 years ago. More recently, the space sold CBD products.
Feely said he eschewed a bank loan and instead sold several of his own high-end bicycles and then borrowed money from friends and family to start the business. His silent partner sold a car.
"People love to bicycle in and around Madison," said Feely, whose shop is only a few blocks from the popular Southwest bike path. "And the sport really took off during the pandemic because people want to be outside even more."
They also stopped traveling, so had money to spend on other activities, he noted. Even though travel has rebounded and people are returning to restaurants and movie theaters, Feely said he's confident his shop will prosper.
"I'd say 75 percent of my business at this point is repair and tune-up work," he said. "And it's still hard to find parts, so that's not back to normal. Companies are adapting, but I wake up every morning seeing if my suppliers have things like 11-speed chains.
"If they do, I buy 10 because I don't want to be caught short," explained Feely, who said he has been able to get enough bicycles to stock his showroom. Prices vary from $900 to $1,300, which he called mid-range.
"My main goal is to offer help and service, that's my niche," he said. "Down the road, I hope to sponsor events and rides. I really do want to be a resource for this community."
According to Bicycle Retailer, an online trade publication, parts and bicycles themselves can be difficult for stores to get, depending on the manufacturer. In some cases, companies have had to cancel events because they did not have enough bikes to offer potential customers who normally would have been able to try them for a demonstration ride.
Christopher Quinn, a lead sales person at Machinery Row on Madison's isthmus, said his store is ahead of last year in terms of sales. Higher-end performance bikes are particularly hard to obtain, he added.
"Some say biking is the new golf," he quipped.
"What we're finding now is that people who bought entry-level bicycles are now upgrading them because they've really taken to the sport. They might be going from a hybrid for pedaling around Lake Monona to a road bike, a gravel-adventure bike or maybe even an e-bike to commute to work.
"What we've noticed is that the average bike price has gone up by a noticeable amount from novice to mid-level and mid to and even better bikes. People are also buying bicycle clothing because you need a pair of padded shorts for longer rides."
See the Destination Bicycle website here: https://destinationbicycle.com
By Brian E. Clark
For WisBusiness.com
— Clark, a longtime resident of the Madison area, travels extensively
on biking and skiing trips.