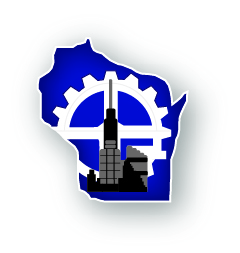 Georgia-Pacific's 1915 Studios accelerator program in northeast Wisconsin is recruiting startups for its next cohort, due to kick off in September.
The program was launched last year by the Atlanta-based pulp and paper company in partnership with startup accelerator gener8tor. Georgia-Pacific has seven Wisconsin facilities spread across Green Bay, Oshkosh, Sheboygan and Neenah, and employs around 2,000 people in the state.
"We really want to support the startup community in northeast Wisconsin," Georgia-Pacific executive Dave Hahn said yesterday during the New North Summit at Lambeau Field in Green Bay. "We believe this will help attract and hold talent to this area. We also believe in giving back to the community by way of overall economic development."
As part of the free 12-week program, the company provides office space at its innovation center in Neenah and access to over 250 engineers and specialists at the facility. Other services include testing, fabrication services for prototypes, as well as engineering and design assistance, he said.
Five startups have progressed through the program's first iteration, which focused on sanitization products and services. Hahn spotlighted one of the program graduates, Roving Blue, which had several products in development before participating.
The company has created a specialized method for dissolving ozone gas into water, according to an overview from program organizers. This treated water can then be used to purify drinking water and kill "unwanted microorganisms" on the surface of food like meat and produce, as well as other surfaces.
"I'm happy to say that Georgia-Pacific and Roving Blue have continued to work together beyond the formal cohort," he said.
The current cohort of companies began last month, and 1915 Studios is actively seeking participants in Wisconsin and across the country, according to Hahn.
"Another good reason to explore innovative ideas is that startup companies are so good at dreaming up, staying focused on bringing new products to the marketplace," he said. "Entrepreneurs see problems and solutions through a unique lens. Georgia-Pacific seeks to learn from them and help them succeed when possible."
See more on Roving Blue: https://www.rovingblue.com/ 
–By Alex Moe