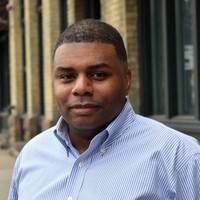 This week's episode of "WisBusiness: the Podcast" is with Shabaka Gibson, director of the Creative Destruction Lab in Wisconsin.
CDL-Wisconsin is a small business accelerator program for companies with "amazing technology and are ready for massive scalability," Gibson explained. The Madison chapter is one of 10 sites around the world, and is one of just three located in the United States.
Gibson describes the types of companies the program seeks to work with as well as its overall strategy for driving growth.
"Typically we aim for a company that again is seed-stage, so they are beyond the incubation stage, they have all the business stuff lined up. What they're really looking for is how to take their product or company from being productive and profitable to massively scaleable," he said.
While the program can sometimes work with earlier-stage companies with a promising idea or research basis, Gibson says participating companies are usually "ready to take off."
CDL programs are typically attached to universities, Gibson explains. and Wisconsin's chapter is no different. Through a class offered at UW-Madison, college students are able to participate in the program and learn about the process for boosting business growth.
Listen to the podcast below, sponsored by UW-Madison:
See a recent story on the program: https://www.wisbusiness.com/2021/creative-destruction-lab-including-students-in-the-accelerator-process/