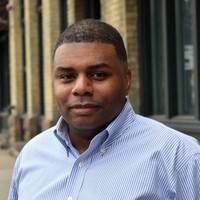 — The Creative Destruction Lab accelerator program is giving UW-Madison students a chance to join in the process of helping companies grow.
The program works with seed-stage science and technology companies to help them "accelerate massively," according to Shabaka Gibson, director of CDL-Wisconsin. The nonprofit organization has 10 sites around the world, with one of the three U.S.-based locations in Madison.
"There's not a lack of good ideas out there in the world, there's not a lack of effort, and oddly enough, there's not a lack of money either," he said last week during a discussion held at the university as part of the Entrepreneurons event series. "When you take a look at where massive growth takes place, it tends to be on the coasts … The question is why?"
He highlighted the more receptive environment in Silicon Valley and elsewhere in the country, where entrepreneurs with "a great idea" can more easily find support and guidance from established company founders.
"They've got advice, they've done it before, and they're willing to share how they did it. Well you can't find that everywhere," he said. "So what we try to do is recreate that market for judgment for companies around the world."
He said the Madison-based program also aims to boost Wisconsin's economy by helping growth-oriented companies in the state flourish. Students from various disciplines can participate in that process through a year-long course at the university.
Participating students get to sit in on meetings with companies while doing coursework focused on innovation and entrepreneurship. Gibson said students are able to assist companies in the program through internships, adding that some are offered jobs with these businesses at the end of the course.
"The real value to the student is they get to see this market for judgment, they get to participate in it, and they get to take it with them when they move on after graduation into whatever position they decide to do," he said. "And if they decide to become an entrepreneur, now they've got a competitive advantage against other folks as well." 
See more details on the program here: https://www.creativedestructionlab.com/program/
–By Alex Moe