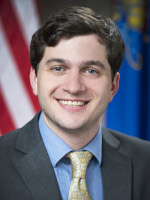 Proponents of esports see the competitive video gaming industry as poised for expansion in the state of Wisconsin.
"We don't think of kids playing video games — we think of esports as a growing economic sector and a fast economic sector," said Metropolitan Milwaukee Association of Commerce Governmental Affairs Senior Vice President Steve Baas.
Esports is competitive, organized video gaming. Like sports, players can get involved in structured clubs to compete with others, but in video games.
Baas was a panelist yesterday during Rep. Tip McGuire's (pictured above) public discussion on esports' potential impact on Wisconsin's economic growth. The industry, Baas cited, has a $10 billion valuation. 
"You're either on the bus or you're left behind," he said.
Ahead of the event, McGuire, D-Somers, noted that esports is a rapidly growing field that has the potential to bring a host of benefits to Wisconsin.
Organizations, such as MKEsports Alliance, work to accelerate the competitive gaming industry and give esports companies a voice, according to President Brandon Tschacher. But it's not just small movements. The NBA is getting involved, too.
"This is big. Talk about a footprint for us as a community, as a region, and where to leverage it," Milwaukee Bucks President Peter Feigin said. He noted that more people attend Bucks' esports games than traditional games held at Fiserv Forum.
Esports advocates say there's a great role for esports in schools, where traditional athletics have been challenged by the COVID-19 pandemic.
"When we get kids involved in extracurricular activities, GPA goes up and attendance increases," James O'Hagan of Racine Public Schools said.
As Wisconsin faces labor shortages in multiple sectors, O'Hagan argued that advancing opportunities outside traditional curriculum helps prevent "brain drain" — talent leaving states for attractions elsewhere.
Former Green Bay Packers running back Ahman Green agreed with O'Hagan. Green coaches esports at Lakeland University. He has partnered with nonprofits to improve access to scholarships for nontraditional students through gaming at the university.
Competitive gaming also allows for inclusivity in sports. Gaming is based on skill level rather than age, gender or athletic ability.
UW-Madison developmental disorders researcher Brittany Travers was also on the panel. In her work, she has found that esports and gaming have positive outcomes for autistic people.
Listen to a recent episode of "WisBusiness: The Podcast" highlighting esports: https://www.wisbusiness.com/2021/wisbusiness-the-podcast-features-jd-uhler-xp-league/ 
-By Jay Stahl
WisBusiness.com