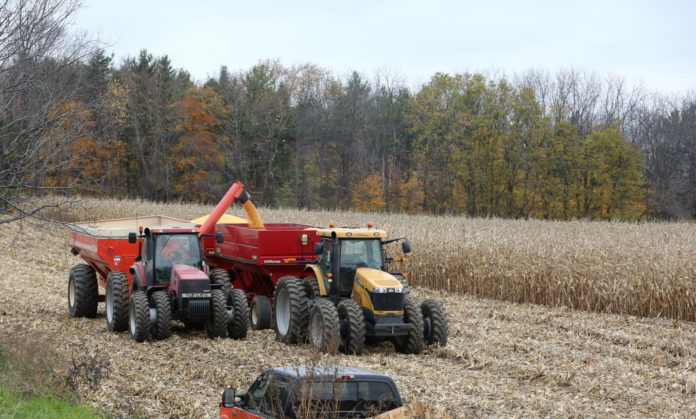 Groups representing farmers and dairy producers in the state are applauding Gov. Tony Evers for signing into law a bill that aims to expand exports of Wisconsin agriculture products.
Under 2021 Wisconsin Act 92, the Department of Agriculture, Trade, and Consumer Protection will be working with the Wisconsin Economic Development Corp. to create a plan for boosting exports of dairy, meat, crops and other ag product exports by 25 percent over the next five years.
"Exports are critically important to agriculture," said Wisconsin Farm Bureau Federation President Kevin Krentz. "By providing opportunities for product innovation and new market access, we also provide opportunities for new and existing market development for Wisconsin's agricultural products."
The state Dairy Business Association notes half of the $5 million being allocated to DATCP's Center for International Agribusiness Marketing is committed to dairy products. The other half will be split evenly between efforts to expand meat and crop exports. DBA President Amy Penterman says the state's dairy industry depends "in large part" on international exports.
"This investment will help us not only remain competitive in the global marketplace but be a leader," she said in a statement.
Meanwhile, Wisconsin Cheese Makers Association Executive Director John Umhoefer calls the new effort "a smart, necessary boost that will benefit not only our dairy industry, but the state's entire economy."
DATCP and WEDC are required to submit their plan for the program by the end of the year, and must submit a report to lawmakers on June 30, 2024 on the progress made toward the program's goals. The Legislative Audit Bureau will also evaluate the program's effectiveness by Dec. 31, 2026.
At least 15 percent of the funds allocated to the program must be awarded in the form of grants to Wisconsin ag exporters by the end of 2022, according to the bill text.
Evers had previously proposed a similar ag export plan in calling for a special session in 2020, and later included funding for the plan in his 2021-2023 budget proposal. Neither of those efforts came to fruition. Republican lawmakers introduced Assembly Bill 314 in May of this year.
"We started this work to promote and increase Wisconsin's product exports even before the pandemic to help support our farmers and our rural communities, and I'm proud this legislation has finally made it to my desk," Evers said in a statement.
AB 314 was authored by Sen. Joan Ballweg, R-Markesan, and Rep. Tony Kurtz, R-Wonewoc. The legislation establishing the program unanimously passed both the state Assembly and Senate in recent months.
"Wisconsin is in the top ten states for agriculture production, yet ranks 13th for the export of our food, forestry and agricultural products," Ballweg said in a release after Evers signed the legislation into law. "There is ample opportunity for Wisconsin to find new footholds in emerging markets."
See the text of the law: https://docs.legis.wisconsin.gov/2021/related/enrolled/ab314.pdf
–By Alex Moe