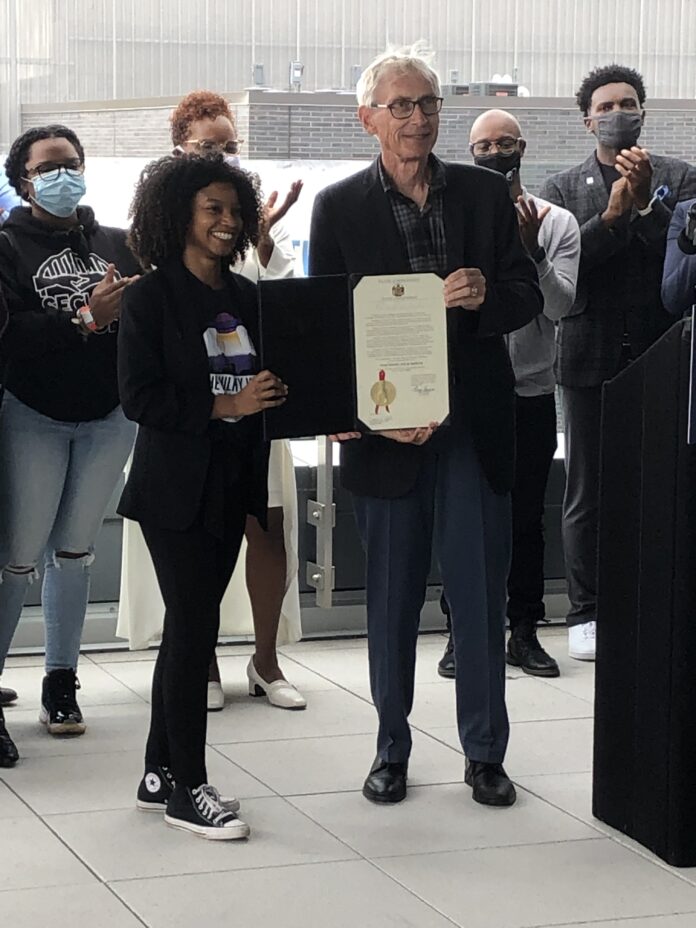 Gov. Tony Evers kicked off Wisconsin Tech Month with a focus on inclusivity, highlighting the "technological divide" in the state.
"We see it with broadband. Our communities don't have access to a reliable internet connection," he said yesterday at a news conference in Madison. "We see it in gaps to the education systems. There are kids not receiving equal opportunities to access STEM programming. And we see it in access to opportunities for entrepreneurs, whether that's venture capital, education and training and networking opportunities."
Evers was joined by WEDC Secretary and CEO Missy Hughes, Nadiyah Johnson, founder of Jet Constellations and Milwaukee's Milky Way Tech Hub, and representatives of the StartingBlock Madison entrepreneurship hub, where the event was held.
In order to improve measures of equity, diversity and inclusion among the state's tech sector, Evers said "we have to make sure that every Wisconsinite has the tools and resources to thrive." He said progress is being made in schools to give more kids access to technology and science resources, and praised the state's universities for preparing the next generation of tech industry leaders.
"These leaders must represent our state's diversity," Evers said. "We're thankful for partners across the state that work to make sure entrepreneurs — especially entrepreneurs of color — have the tools and resources to see their tech businesses succeed."
Throughout October, Johnson said tech industry representatives will be advocating for expanding broadband access, as well as "equitable deployment of resources" for entrepreneurs of various backgrounds. The effort will kick off with Milwaukee Tech Advocacy week, Oct. 1-10, and will continue throughout the month, she said.
"We will be advocating with our community around upskilling our communities, to prepare them for the accelerated automation within the workforce," she said.
Hughes noted that WEDC has supported Johnson's program in Milwaukee as well as StartingBlock's efforts in Madison, the Blueprint Green Bay program, and other inclusive initiatives in Platteville and Eau Claire.
"All around the state, we're doing everything we can to make sure that in your community you can find these resources," she said. "That's why it's so incredibly important for Black entrepreneurs to be able to access these tools within their community, and we want to make sure we're supporting those types of accelerators also."
Watch a video of the news conference: https://wiseye.org/2021/10/04/news-conference-gov-evers-wedc-to-kick-off-wisconsin-tech-month/
–By Alex Moe