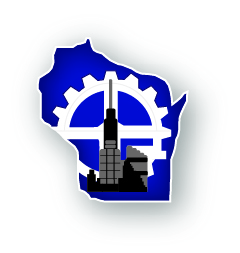 The median wage for workers in Wisconsin increased by just $2.76 per hour over the past 40 years, a report from a UW-Madison think tank shows.
The annual State of Working Wisconsin report from COWS found the state's median wage rose from $17.48 per hour in 1979 to $20.24 per hour in 2020, with "strong wage growth" in the past two years driving much of that increase. COWS stands for Center on Wisconsin Strategy.
All dollar figures in the report are adjusted for inflation.
Since 2018, when the state's median income was $18.66, the median wage has increased by more than $1.50 per hour. Report authors point to two causes for that recent jump.
"After long stagnation, sustained economic growth that preceded the pandemic finally showed up in workers' paychecks. This is unambiguously good news for workers," they wrote.
But at the same time, the pandemic's impact on the economy last year caused many lower-wage workers to lose their jobs as restaurants, bars and hotels had to shut down temporarily. Those job losses drove the state's median wage upward.
The report also highlights a shift in income inequality in the state over the same period.
"In 1979, the labor market was marked by a clear gender disparity. Men's wages were substantially higher than women's wages," report authors wrote. "By 2020, the clear hierarchy is racial and ethnic with white men and women at the top."
The median wage in 1979 was $23.18 for white men, $20.07 for Black men and $18.24 for Hispanic men. Meanwhile, the median wage was $13.29 for white women, $14.90 for Black women and $11.02 for Hispanic women.
Over the 40-year period covered in the report, median wages for those three groups of men all decreased, with Black men seeing the largest drop. At the same time, median wages for women increased, though Black women saw the smallest increase by percentage.
The median wage in 2020 was $22.86 for white men, $15.94 for Black men and $17.51 for Hispanic men. And the median wage last year was $19.03 for white women, $16.64 for Black women and $16.04 for Hispanic women.
See the wages report here: https://workingwi.org/wages/
See more from this year's COWS report: https://www.wisbusiness.com/2021/cows-report-highlights-pandemic-impact-on-leisure-hospitality-jobs/
–By Alex Moe