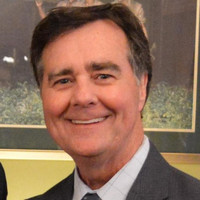 Nursing and group home operators in the state are taking aggressive measures to limit the spread of COVID-19 as hundreds of cases have been identified in their facilities and 79 residents have died.

Meanwhile, thousands of nursing home patients around the country have died from COVID-19.

"We're doing everything we can not to introduce the virus into our facilities," said John Sauer, president and CEO of LeadingAge Wisconsin, a nonprofit long-term care group whose members operate about 500 facilities in the state. "The frail, older population they serve makes them more susceptible to serious consequences of contracting COVID-19."

"These are obviously very challenging times," added John Vander Meer, president and CEO of the Wisconsin Health Care Association and Wisconsin Center for Assisted Living. "Everyone is doing the best they can to respond to this challenge."

The WisBusiness.com interviews with Sauer (pictured here) and Vander Meer took place before the death count emerged Wednesday night.

The state Department of Health Services recently began publishing data on COVID-19 in nursing homes, showing 418 of the state's 4,620 confirmed cases were in long-term care or group housing as of Tuesday. And officials said Wednesday that 79 of the state's 246 COVID-19 deaths have occurred in group housing facilities. That number from DHS includes: 37 in skilled nursing facilities, 12 in community-based residential facilities, nine in residential care apartment complexes, 16 in unspecified long-term care facilities, three in other types of group living, one in a group home and another in a correctional facility.

The elderly are at much greater risk from the virus, with fatality rates as high as 20 percent for people over 80 years old.

In Kirkland, Wash., dozens of deaths were linked to a single nursing home and more than 100 residents and staff were found to have the virus. And national reports show more than 5,500 COVID-19 deaths have occurred in nursing homes across the country.

Sauer pointed to outbreaks at facilities in Madison and La Crosse, but added "it appears they did everything right."

"You can be taking all the steps necessary — washing hands, changing personal protective equipment, creating other barriers — but sometimes everyone's best efforts are just not enough," he said. "You just never know how the virus might slip in."

Sauer says facilities like these were bound to have cases of the highly infectious virus. In his view, these numbers illustrate only how contagious the coronavirus is, not how the facilities are being managed.

Of the 500 LeadingAge Wisconsin member facilities, 180 are nursing homes. The rest are assisted living or independent living such as retirement housing. At each of these locations, staff members are getting their temperatures taken and being screened for cough or fever. Any workers with any respiratory symptoms aren't being allowed to work, Sauer said.

Meanwhile, residents are being even more closely monitored with temperature checks at least twice a day. Any new admissions are being screened and tested when tests are available, but Sauer explained it's standard practice to treat any new residents as if they were already infected. That means mandatory in-facility quarantines for at least 14 days.

Vander Meer says long-term care providers across Wisconsin are using personal protective equipment "wherever possible and necessary" and are conducting extensive patient monitoring.

"Staff are using PPE to keep themselves and other residents safe," Sauer said. "Facilities have had to stop all communal dining and group activities. That's a significant thing when you talk about the social fabric of nursing homes or assisted living."

According to Vander Meer, some testing is available on-site at certain long-term care locations, helping avoid the risk of being infected for residents that have to leave to get tested. Sauer added most of these facilities have ceased all visitations except for end-of-life care.

Both Sauer and Vander Meer said long-term care leaders are working closely with the state Department of Health Services, and Sauer added the agency's response has been helpful.
He explained that DHS has waived some regulations to allow operators to reconfigure their buildings to create dedicated units for residents with COVID-19.

"From a regulatory standpoint, they have recognized that now is not the time to take a punitive approach to how we oversee nursing homes, but to take more of a collaborative approach," Sauer said.

Jennifer Miller, a spokeswoman for DHS, said local public health officers follow up with any long-term care residents who test positive or their guardians, "working with each patient to determine who they may have been in contact with to isolate, quarantine, or test when appropriate."

In a statement, she said DHS and Wisconsin Emergency Management and Military Affairs are working case-by-case to determine facility needs and how they can be met.

See the latest numbers: http://www.dhs.wisconsin.gov/covid-19/cases.htm
–By Alex Moe
WisBusiness.com