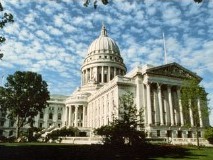 GOP lawmakers have introduced legislation to regulate dentists' use of telehealth technology.
A provision to extend proposed telehealth dentistry regulations to out-of-state dentists was removed from an earlier draft of the legislation.
According to a co-sponsorship memo from Rep. Amy Loudenbeck, R-Clinton, and Sen. Dale Kooyenga, R-Brookfield, state law has no provisions related to "teledentistry." Under their proposed legislation, dentists would be held to a set of standards for the technology established by the state's Dentistry Examining Board.
Under the bill, telehealth would include any remote method of delivering dental care, through audio, video or data communications. That can include interactive telehealth — such as a video chat — as well as asynchronous telehealth, in which the video messages are sent one after another. It would also include remote patient monitoring for dentistry purposes.
See the co-sponsorship memo: http://bit.ly/2VjkXug