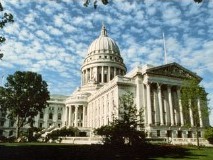 Republican lawmakers have begun circulating legislation aimed at reducing the plan review backlog at the Department of Safety and Professional Services.

According to the memo, legislative offices have been fielding angry calls from contractors raising concerns about the delay in getting plans reviewed for commercial building projects. The legislation would exempt certain projects from review in hopes of clearing up the queue.

DSPS Secretary Dawn Crim has set a goal of four weeks for the standard review timeline, but the lawmakers note some builders are waiting up to five months to get their plans reviewed.

"Considering that Wisconsin's building season is limited by weather and other factors, some construction projects are literally being delayed a year," they wrote. "That year-long delay ultimately impedes economic development in communities across our state."

Lawmakers introducing the legislation include Sens. Roger Roth, R-Appleton, and Duey Stroebel, R-Saukville, as well as Reps. Jesse Rodriguez, R-Oak Creek, and Barbara Dittrich, R-Oconomowoc.

The agency has declined to support the legislation, with Crim saying it would "benefit from further input from building code councils."

The bill, LRB 5307, would only allow developers to receive 50 percent of their fee back if they withdraw their plan from the queue.

It would exempt from review certain single-story commercial buildings aside from schools, health care facilities and factories as well as churches, concert venues and other places where people gather. This exemption would require the building to be overseen by a licensed engineer, designer or architect.
The legislation would also exempt plumbing plans with fewer than 26 fixtures from the review process if they're supervised by a licensed master plumber. Under current law, plumbing plans with 15 or fewer fixtures aren't reviewed by DSPS.
Lawmakers noted "many productive meetings" have been held between agency officials, industry representatives and legislative offices focused on the backlog issue.
DSPS has rolled out internal process improvements in recent weeks, including requiring contractors to submit complete plans for review and requiring upfront payment of review fees. Plus, Crim has asked building councils for input on switching to risk-based guidelines for review.
But the GOP lawmakers behind the new legislation say that "additional reforms require legislation before Wisconsin's 2020 construction season."
They argue the bill incorporates suggestions from both industry stakeholders and DSPS.
See an earlier story on the issue: http://www.wisbusiness.com/2020/building-plan-review-backlog-prompts-search-for-solutions/
–By Alex Moe
WisBusiness.com