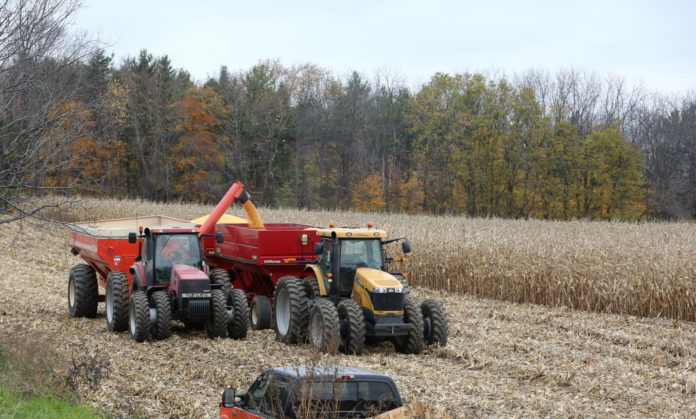 Wisconsin farm groups respond to USDA's farm relief package by asking for the state to fill in the gaps.

Wisconsin farmers are struggling to make ends meet as the coronavirus pandemic cuts commodity prices, disrupts supply chains and upsets markets. They say new federal aid programs won't fill the hundreds of millions of dollars in shortfalls brought on by COVID-19.

"As the pandemic continues to wreak havoc on our economy, millions of Americans cannot afford food, many for the first time in their lives, and our farmers who produce this food are struggling to survive financially," said Edge Dairy Farmer Cooperative and Dairy Business Association.

Edge and DBA said U.S. Secretary of Agriculture Sonny Perdue's Coronavirus Food Assistance Program relief, which comes with a $19 billion price tag sourced by the $2 trillion CARES Act package, is a "bridge for both" consumers and producers.

Both Edge and DBA pushed for Perdue's plan to help farmers nationwide hit financially by the pandemic: $16 billion in direct federal payments to various commodities, including $2.9 billion to dairy farmers around the country; and $3 billion in federal purchases of produce, dairy and meat, including $100 million in dairy products per month, for food assistance programs.

According to the USDA, the new program will assist farmers, ranchers and consumers in response to the COVID-19 national emergency to "maintain the integrity" of the food supply chain and ensure Americans have access to food.

"During this time of national crisis, President Trump and USDA are standing with our farmers, ranchers, and all citizens to make sure they are taken care of," said Perdue in a statement. "The American food supply chain had to adapt, and it remains safe, secure, and strong, and we all know that starts with America's farmers and ranchers."

Food, fuel and fiber trace their way back to farms where crops and livestock source the products that drive economies like Wisconsin's, where agriculture contributes $104.8 billion annually to the state's economy. Coronavirus is stripping away more than $500 million of that, based on early projections from ag production sectors.

If federal relief was meant to cover the losses that Wisconsin's ag industries have experienced, the money books say otherwise.

–Wisconsin's beef industry alone has lost $180 million-$200 million.

–Wisconsin pork producers project a $44.4 million deficit, not including processing losses.

–As a result of closed food service businesses and institutions due to COVID-19, this year, Wisconsin's potato industry has already lost $17 million with a projected $100 million deficit predicted later in the year.

–Wisconsin soybean producers have a current projected loss of $80 million-$100 million because of the pandemic, and cranberry growers dread the upcoming struggle to rebuild lost markets in China, Europe and the United Kingdom.

— And dairy has experienced a $66 million loss in Wisconsin milk revenue for the months of February and March.

"In addition to the immediate losses, the industry is now faced with a massive oversupply situation that will result in millions of dollars in more losses when the vast majority of 2020 crop potatoes are harvested in the fall," said Tamas Houlihan, executive director of Wisconsin Potato & Vegetable Growers Association.

DBA, along with seven other agriculture commodity groups, signed a letter to Gov. Tony Evers asking to provide the state's farmers $50 million in direct cash payments from the $1.9 billion the state is scheduled to receive from federal stimulus legislation.

The groups wrote to Evers recently that they have never before "experienced the type of crushing economic destruction that this pandemic has brought across our commodity markets."

The COVID-19 pandemic and ensuing economic slowdown has resulted in hundreds of millions of dollars in losses to their industries, according to the letter. The groups acknowledge the federal CARES Act, which will result in the $1.9 billion for the state, also includes aid for the ag industry.

"We plan to propose that to our Republican friends and see if we can do something about that, we tried to do that in the past, and it did not work," Evers told reporters in a press call Thursday.

While he seemed appreciative of the federal government's decision to buy products and donate them to food banks, it's an effort that "should have been done at a much higher level and much sooner."

Evers agrees with the organizations that signed the letter to his office and said he hopes "to have a proposal to get our Republican friends to agree to."

But Joint Finance Committee Co-Chair Rep. John Nygren, R-Marinette, commented that Evers complaining about GOP legislators asking for a seat at the table while at the same time blaming Republicans for how the federal money is spent is "dishonest to say the least."

"Ag groups from across the state put together a thoughtful request that Gov. Evers should consider seriously," said Nygren. "Either the Governor doesn't understand state law or he is shirking responsibility. Either way, Wisconsinites should be concerned."

Meanwhile, the statewide agriculture coalition pleads for help sustaining Wisconsin agriculture, an industry they argue drives Wisconsin's employment.

"State aid will help potato farmers recover some money after they have already invested thousands of dollars per acre in preparing the ground, purchasing seed and planting potatoes that no longer have a market," said Houlihan.

"Food production cannot start and stop on a dime. The investment is too great. We fear that some of these losses will be permanent," read the letter.

And food isn't the only thing affected.

According to the letter, as of mid-April, cash corn prices have declined by 16 percent on average, with several regions experiencing declines of over 20 percent.

"Corn will be one of the most impacted crops as its two largest uses – livestock feed and ethanol – are under pressure," it read.

And ethanol producers couldn't disagree more with Perdue's message that CAFP will provide immediate relief for farmers and ranchers as well as "fellow Americans in need."

"This was a real missed opportunity to help a vital part of Wisconsin and U.S. agriculture by not directly supporting the US ethanol industry with funds," said Erik Huschitt of Badger State Ethanol and the Biofuels Coalition.

While Huschitt said ethanol producers appreciate the acknowledgement of the importance of helping agriculture during the COVID-19 pandemic, "to leave out ethanol plants devastated by the collapse in fuel prices is missing a true understanding of the demand chain."
"Any help to the producers without ensuring the long term health of the second-largest user of corn in the world falls short of being meaningful help," he said.

Farm groups that signed the letter to Evers include: Wisconsin Farm Bureau Federation, Wisconsin Corn Growers Association, Dairy Business Association, Wisconsin Soybean Association, Wisconsin Pork Association, Wisconsin Cattlemen's Association, Wisconsin State Cranberry Growers Association and Wisconsin Potato & Vegetable Growers Association.

Read the letter to Evers:http://www.wispolitics.com/wp-content/uploads/2020/04/200421Ag.pdf
–By Stephanie Hoff
WisBusiness.com