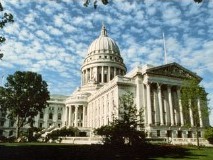 Gov. Tony Evers today announced several criteria to be met before beginning to dial back his latest stay-at-home order, including a downward trajectory in the number of influenza-like illnesses and COVID-19 symptoms reported within a 14-day period.
Evers also will be looking for a downward trajectory of positive tests as a percent of total tests within a 14-day period.
Several of the criteria Evers announced as part of what he's calling the "Badger Bounce Back" plan match what he said last week would be needed before the state began to reopen businesses. That includes more testing capacity, contact tracing to track the spread of the disease and additional personal protective equipment.
See the release: https://www.wispolitics.com/2020/gov-evers-announces-badger-bounce-back-plan/