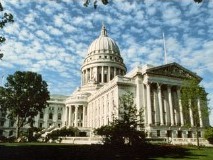 The Evers administration today released best practices and safety tips to minimize the spread of COVID-19 once businesses are allowed to reopen.
The general advice included making sure employees who are sick stay home, ensuring workers have access to sanitizes and personal protection equipment when appropriate, and curtailing business travel.
The guidelines also included industry-specific recommendations:
*bars should leave two stools empty between customers who aren't in the same party.
*companies should consider suspending coffee service.
*gyms should keep closed basketball courts and other areas where physical contact sports occur.
*movie theaters should leave at least two empty seats between groups, while limiting household groups to no more than six people.
Guidelines for outdoor recreation and gatherings were marked "coming soon."
See the release:
https://www.wispolitics.com/2020/gov-evers-announces-best-practices-and-safety-guidelines-for-wisconsin-businesses/