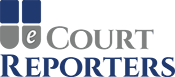 eCourt Reporters provides a one-of-a-kind technology that allows for a thorough selection of court reporters who are needed in the legal world, easing the difficulty in trying to efficiently find well-qualified candidates.

This Wisconsin-based marketplace allows law firms, government entities and court reporting agencies to directly schedule court reporters and legal videographers with live search capabilities across all 50 states.

Karen Renee, president of eCourt Reporters and a reporter herself, got the idea from her brother. After using the popular mobile application, Uber, a lightbulb went off in his head. What if the searchability for legal personnel could instantly be done in a similar way?

In 2017, Renee and Vice President Judy Gerulat launched eCourt Reporters. Since starting, eCourt has been able to effectively reach members of the legal community through its unique technology-based platform.

Renee views eCourt as a one-of-a-kind operation. She said it's the first in the industry to successfully do the full process of searching, selecting, scheduling and invoicing.

Scheduling court reporters for specific proceedings can be time consuming. Users in the legal world are constantly waiting for responses on various platforms. However, eCourt's technology eliminates the wait time, making it efficient for all users.

Law firms, government entities and court reporting agencies have all used eCourt's technology. Their use has led to direct results from live search criteria. The criteria feature upfront pricing, information about certifications, years of experience, five-star ratings and availability.

Multiple companies have tried to mimic eCourt's system, but none has been completely successful. NexDep, Expedite, Statim and AppearMe are four companies that have GPS search process capability such as eCourt, but they fail to provide the full "gavel-to-gavel" service.

"We do the whole process: search, select, schedule and invoice. It allows for law firms to find the best reporter representations for specific proceedings in the United States," said Renee. "Our competitors are similar to a Google search. They do provide a lot of information, but they do not provide the specific information like we do."

However, Renee added that eCourt welcomes the competition.

"From a technology standpoint, it will just be a matter of time before our competitors start to catch up," she said. "We gladly welcome new competition, because it forces us to grow and implement new components into our preexisting technology."

In terms of growth, the recent COVID-19 pandemic has had a positive effect on eCourt from a business perspective. eCourt typically averages between 30 and 50 registrations per month, but in the past month, they have had about 200.

"The recent pandemic has been an uncomfortable position for lawyers," said Renee. "Lawyers are forced into a remote setting. …Lawyers are essentially forced to try our technology and, hopefully, they will find that they enjoy it and implement it into their lives even after the pandemic."

eCourt is a finalist in the Wisconsin Governor's Business Plan Contest, which will end June 4 during the virtual 2020 Wisconsin Entrepreneurs' Conference, hosted by the Wisconsin Technology Council.
-By Mekenzie Steffen

Steffen is a student in the UW-Madison Department of Life Sciences Communication