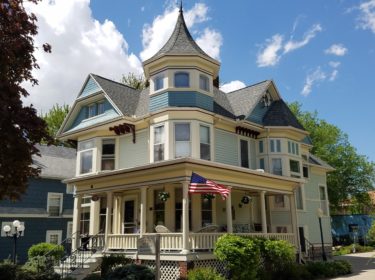 As numerous events in the Fox Valley area are being cancelled and postponed due to the ongoing pandemic, a local bed-and-breakfast is struggling to stay afloat.

Franklin Street Inn Bed and Breakfast was founded in 1994. Current owners Keith and Lori Hansen bought the Appleton business in 2016 as a "semi-retirement plan" and the culmination of a lifelong dream.

"My wife and I used to stay at bed-and-breakfasts before we had kids," Keith said in a recent WisBusiness.com interview. "We love to cook and get to know other people, and now that the kids are grown and out of the house, we were looking for a change after 30 years."

Both innkeepers are in their late 50s and had previous experience in hospitality but spent most of their careers in education. Keith directed student affairs departments in higher education, while Lori worked as a speech language pathologist for school systems.

Over the past three years, the business provided plenty of income, and they were able to focus on it completely. But since the coronavirus has slowed travel and caused many large gatherings to be put off or cancelled altogether, they've been forced to take on part-time work just to make ends meet.

Still, Hansen believes they can hang on until the situation improves, adding they could keep the inn open for another year or two under current conditions thanks to the extra income from their other jobs. He's hopeful many of the area's large events will come back online in the spring, providing a steady stream of guests for the four-bedroom Victorian-era inn. It's located near Lawrence University, just a few blocks down College Avenue from the Red Lion Hotel Paper Valley and other convention facilities.

"We're blessed and fortunate to be in a position to keep the inn open and keep taking good care of our guests when they do come, regardless of our situation," he said. "Lots of other small businesses (like) restaurants are suffering a lot more than we are. Small mom-and-pop yarn shops or art studios, they can't just go out and get another job. I feel a lot for them."

Keith and Lori's experience is just one of the Wisconsin business stories emerging from the pandemic. A recent WisBusiness.com survey offered a way for those stories to be told. See more on the survey results in an earlier story below.

Many of the inn's clientele typically visit for events such as the Mile of Music in downtown Appleton or EAA AirVenture Oshkosh, a large air show that draws visitors from across the country. The bed-and-breakfast would fill up for these events as well as Octoberfest and alumni weekend at nearby Lawrence University. The Fox Cities Performing Arts Center is just six blocks away, and many of its guests come to town for concerts and theater experiences.

But those are all canceled or postponed.

Hansen explained the inn was "basically empty" from early March until late May, and the number of summer visitors has dwindled from previous years. He said the inn went from between 50 and 60 reservations per month to about a dozen per month.

"In the B&B industry, 25 percent occupancy is considered average," he said. "We were running 25 to 37 percent occupancy for the last three years until this year. In the heavy months, 60 reservations is 50 percent occupancy. Going to 12 reservations, that's about 10 to 11 percent occupancy for the last two months."

And he expects those numbers won't change much in August. In the late fall, early-season Green Bay Packers games typically bring the inn up to 75 percent occupancy, but he says he's not holding his breath for that boost this year.

"If we can do between 12 and 20 reservations per month for the rest of the year along with our part-time jobs, picking up the extra work outside the inn will help the business survive," he said. "We'll keep the inn open while we do that. But if it weren't for these jobs, we would be in trouble in a couple months."

Since Lori and Keith don't have any other employees, their business didn't qualify for the federal Paycheck Protection Program loan. But they were able to take advantage of the Economic Injury Disaster Loan in May through the U.S. Small Business Administration. Hansen explains they didn't take the full amount for this loan but received "just enough to make it through," along with a state-level $2,500 small business grant.

"Going without any reservations through March, April and part of May — we couldn't have survived without these programs," he said, adding that some family members helped out early on with no-interest loans.

As the inn has returned to regular operations, Hansen says they've been following CDC guidelines as well as recommendations from state health officials. Despite the concerns surrounding COVID-19, it's still a "personable type of business," and they're doing all they can to preserve that experience.

"We don't have to greet people or check them out if they choose not to depending on the circumstances. It's what guests are comfortable with," he said.

For those guests that still prefer the personal touch, Keith and Lori will greet them at the door with masks on and maintain social distancing. They also require guests to wear masks when entering the building and schedule breakfasts at staggered intervals to minimize exposure. Room keys are left in the doors for new arrivals, and the front door's keypad is frequently wiped down and sanitized.

Looking ahead, Hansen says he's holding out hope that between a potential vaccine and more people wearing masks and social distancing, "that people will become more comfortable travelling again."

"We have to be in a position where events are starting to open up again because that will bring travelers," he said. "Broadway tours at the PAC — like Hamilton or what have you — when those shows start coming back, that will help our business tremendously."

See more on Franklin Street Inn Bed and Breakfast: http://www.franklinstreetinn.com/

Hansen was an early respondent to WisBusiness.com's Wisconsin Business Reopening Survey, which is still accepting responses. The survey, launched in May, has collected information from 109 different businesses including manufacturers, retailers, fitness centers, restaurants and a number of other companies.

See an earlier story on another survey respondent: http://www.wisbusiness.com/2020/%EF%BB%BFfamily-owned-fond-du-lac-business-producing-masks-amid-pandemic/

Take the survey here: http://docs.google.com/forms/d/e/1FAIpQLSd7QAcMm36CEUynO6Nm6Ie6TQY3b3_W3sHuwn9JrJi0uWnizQ/viewform
-By Alex Moe
WisBusiness.com