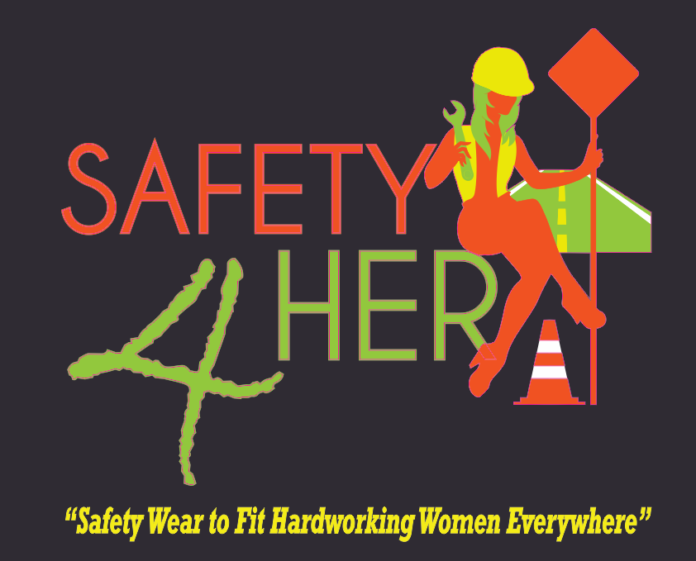 Safety4Her was founded by Melissa Gaglione, who saw a need and opportunity for women's clothing in the towing and trucking industry.

With the trucking, towing and manufacturing industry employing more than 5 million women and a growth rate of 22 percent annually, she decided it was time for clothing that women in those industries would want to wear.

"I started my company, because I was a woman in the towing and trucking industry… and found that wherever I searched, there was nothing that fit me," Gaglione said. "There are no small sizes and everything was made in one size."

The existing market for safety wear is mostly for men and does not provide materials or fits that most women would find comfortable. A poor fit can cause women to face a higher risk of injury or death — think baggy clothing caught in machinery — which can also increase insurance risks.

In 2017 alone, Gaglione said, there were 250,000 accidents due to ill-fitting safety wear. Gaglione said she knows of some companies that sell pink safety wear, but much of it doesn't comply with the American National Standards Institute, which establishes various safety standards.

She not only made her clothing compliant with ANSI, but comfortable. All her garments are inspired by typical yoga pants, as she got her start by simply sewing on reflective gear to her yoga pants and leggings. She eventually made her own designs for women of all sizes.

As Gaglione experimented with design, she added functional pockets and a high-waisted feature for extra comfort and flexibility. She also made sure the pants were breathable, water resistant, bacteria fighting, and non-see-through — in five different designs.

While the pants are the brand's specialty, Safety4Her also offers safety vests that are smaller, fitted and adjustable.

"Safety4Her is the very first high-visibility wear company made for women today," Gaglione said. "There are other companies that make wear for women in the industry, but none are ASCI compliant. I set myself apart because I have custom-designed everything from scratch. I am also excited to say that I am the first woman-owned business creating wear like this."

Gaglione is taking steps to expand into other lines, such as Safety4Him, Safety4Girls, and Safety4Boys.

The Young Enterprising Society, ​a Milwaukee-based entrepreneurial organization, recently announced Safety4Her will take part in the next round of its ​Blueprint accelerator program. It will run through July 28. The ​Blueprint provides seed capital, entrepreneurial and technology training for promising, urban Milwaukee startups.

The Young Enterprising Society launched the ​Blueprint ​program in 2018 with support from the City of Milwaukee, Northwestern Mutual, Milwaukee Institute and Wisconsin Economic Development Corp. to develop a more inclusive entrepreneurial ecosystem in the areas of technology, eCommerce and advanced manufacturing.

Safety4Her is seeking $500,000 in capital to improve marketing, increase inventory and expand distribution relationships.
-By Abby Kochevar
Kochevar is a student in the UW-Madison Department of Life Sciences Communication.