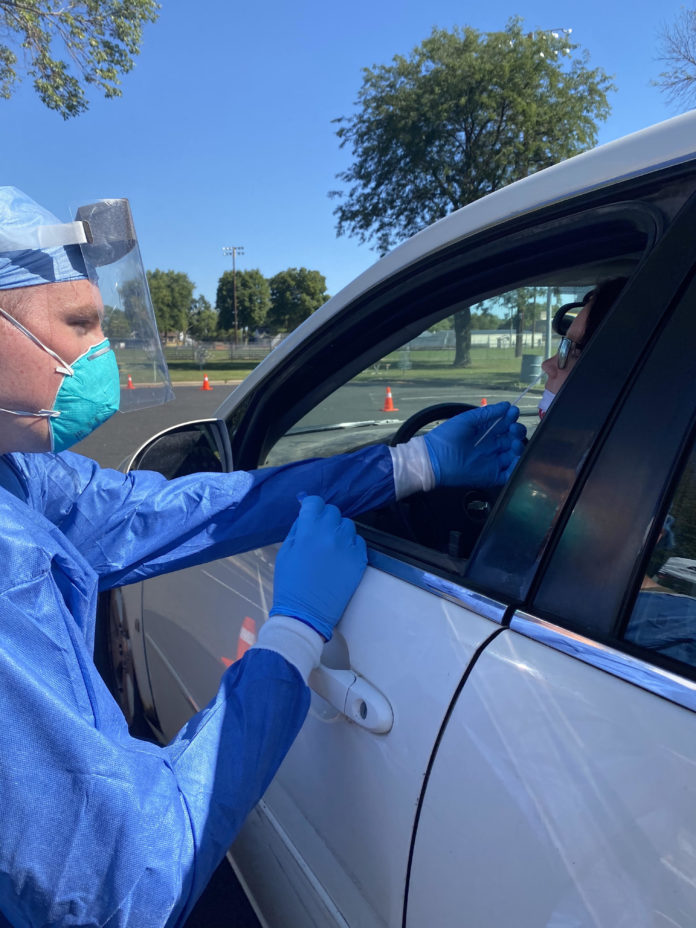 BOSCOBEL — Jordan Beck is largely hidden by a surgical mask, faceshield, plastic gown and surgical gloves. The only visible reminders that Beck is with the Wisconsin National Guard are slate-colored pants tucked into tan boots sticking out the bottom of all the personal protective equipment.

Beck, an operational safety non-commissioned officer and healthcare specialist from Wisconsin Army National Guard's 1st Battalion, 120th Field Artillery, spent one September day walking from a field tent to the line of cars with a clean swab and then back again with a specimen. The route for those tan boots from the tent to the drive-through testing lane in southwestern Wisconsin's Boscobel was labeled "the hot zone."

The 23-year-old Illinois native has served in the National Guard for over four years. His primary role at the Guard's Boscobel mission was to put the cotton swab halfway up each nostril, spin it around several times, and then place the swab into a tube of saline solution for preservation.

Beck's witty personality and joke-telling played well with Grant County residents waiting inside their cars, trucks, and even ATVs, for their test. Before he sticks the swab into the driver's nose, Beck explains the testing procedure "to help reduce that anxiety and prepare them for the testing process itself."

His fellow team member puts the specimen tube — equipped with a label of identification — into a specimen bag labeled "biohazard." That bag goes into a cooler of ice. At the end of the day, that cooler is sent to Madison where it is tested at Exact Sciences. Those who were tested that day could expect to get their results back within 48 hours via email and telephone.

Beck's primary specialty is combat medic, he told WisBusiness.com as he slid on a new pair of surgical gloves for the next vehicle. His training is in trauma, traumatic brain injury and burns.

"But when I pair that with my previous experience working in hospitals or ambulance services or fire departments, that's how I became so comfortable with interacting with patients," he said.

Beck praised the missions as opportunities for self-development and team development.

"As we continue to go on more missions and meet new people, patients, new team members, the important thing is that we built up a reputation with each other based upon each other's experiences and that helps us give the best patient health care possible," he said.

Beck also noted that some people are a "little standoffish or afraid" of the Guard — the entirely blue, science-fiction-like PPE outfit can be intimidating. He reminds residents that the Guard members are just regular people: college students, firefighters, teachers and postal workers.

"We want people to relate to us and be eager to come see us because we really want to help people," he said.

Boscobel, located on the lower Wisconsin River in Grant County, is home to rolling hills and just over 3,100 residents. This summer, the community has also hosted two Wisconsin National Guard COVID-19 community testing events in Kronshage Park on June 29 and Sept. 2.

Grant County saw larger volumes of people wanting tests earlier this summer — up to 550 specimens in one day. That has since decreased following a statewide trend, said Steve Braun, the emergency management director for Grant County. The Emergency Operations Center, which assists the local health department, has a goal to hold one testing event a week in Grant County, and that has happened the past eight weeks.

The county started to see a pickup in COVID-19 cases in late June. As of Sept. 9, it has a cumulative total of 499 cases — about 9.5 people per 1,000 population. The county has also had 19 deaths due to the virus.

"The biggest issue for rural communities is access to testing," said Braun, who set up equipment at the site the day before. "We felt that in Grant County, community testing is important here because we're a pretty good distance from Madison where they're doing all the testing at the Alliant Energy Center. Not everybody can just pack up and go to Madison."

Grant County also draws people from the surrounding counties who are too far away from permanent testing sites. The health department moves the site around to hit communities that lack access to healthcare for financial or geographic reasons.

"We really felt it's important that having some kind of free testing site here – the access is important for people. It's important for public health," he said. "Right now, there really aren't other places people – especially asymptomatic people – can go because the clinics, the hospitals, the folks that traditionally would do testing are only testing symptomatic people right now."

But the testing site cannot go on without the Guard's support. Public health nurses are busy contact tracing, and the county lacks the capacity to run the site alone.

"It would be very challenging especially with the volumes that we were seeing," Braun said.
While those volumes have trickled down from 550 to 125 at last week's Boscobel site, it still required 15 Guard members. Up to 30 members can be sent to a site.

Beck's attitude is just one example of the high morale among the members during the evolution of community testing, said Capt. Christina Baurichter. "As people went back to work, we'd get that rush at the end of the day," she said. "It slowly has changed, and now some employers are making their employees get tested to get back to work and that type of thing. So it really depends on what society, what the community is adjusting to as far as work, rest cycles and things like that."

While the team cannot predict how many people will arrive at a temporary community-based site, Baurichter said enough supplies and personnel exist to "continuously test all day long."

The COVID-19 response effort is unprecedented for both the Guard and the EOC.

The Guard's response started as three mobile specimen collection teams in March made up primarily of medics. Prior to the pandemic, combat medics were assigned to different units or companies to provide medical care or undergo training. As the need for testing grew across the state, the Guard created as many as 25 teams with up to 30 personnel each from a wide variety of military occupations from artillery to the band.

As of Sept. 7, Wisconsin National Guard teams have collected over 445,000 specimens statewide. Additionally, about 30 troops are working at a call center that informs people of their COVID-19 test results.

This year also marked the first time in Wisconsin National Guard history that Guard members served as poll workers in the elections, working both April 7 and August 11. According to Guard spokesman Maj. Joe Travato, April 7 was the first time nationwide where Guard members served as poll workers.

This is the longest the EOC has ever been active, Braun said. And prior to COVID-19, Grant County's EOC was still one of the busiest emergency management offices in Wisconsin.

"We have a tremendous amount of flash flooding because of the terrain, so we traditionally do a lot of work with FEMA public assistance and Wisconsin disaster fund," he said, adding that Grant County is a large county with its 54 municipalities. Disaster aid includes fixing up roads and bridges.

"We were very fortunate that this year was one of the few years that… we haven't really had any major flooding events," he said. "We wouldn't have had the capacity to do both."

In addition to the testing sites, the EOC is also working on getting 15,000 surgical masks, gowns, gloves and N95 masks every two weeks to hospitals, clinics and nursing homes. The county received the PPE from the state.

As soon as the Guard receives the mission from the state, it starts preparation, including a meet-and-greet with the county officials to get eyes on the site. Supplies for the site arrive the day before testing. The counties have a lot of the equipment: traffic cones, tents and tables, for example. The Guard has that equipment, too, if needed, but is also in charge of bringing the testing kits. These kits come from the state via Exact Sciences.

Braun said he has not experienced any testing shortages for the community testing sites. In fact, the only problem Braun could think of was the night before Boscobel's site opened for testing. A truck pulled in and started loading up the traffic cones. The police pulled him over four blocks away, and Braun got his cones back.

"We've always been able to get the volume we needed to do the testing," he said. "The shortages in our area are more with the hospitals and clinics."

He explained the hospitals that are running their own tests are having difficulty getting reagents — "on par with what's happening in the rest of the state."

"That's part of the reason why there's virtually no asymptotic testing except for these community-based sites because the hospitals are short on the reagent to run tests, and they have to prioritize," Braun said.

Sept. 1 marked the first day of in-person school for most of the schools in Grant County, including UW-Platteville and Southwestern Technical College.

"I think that the volumes are going to increase, especially looking at the university coming back into session at Platteville. It's not just the students, but it's the faculty — there's a lot of activity," Braun warned. "I know every student signed a pledge that they weren't going to go downtown. (But) I can tell you the businesses have been pretty busy in Platteville."

He expects that while there's been a dip in testing numbers, it will climb due to schools being back in session.

Looking ahead to the winter months, Braun said he's not sure what testing is going to look like.

"We've been tossing around ideas. You can't set up a site like this in January," Braun said, gesturing around the lush green park basking in 80-degree sunshine.

"We've been trying to recruit more people for public health, but right now it's a very challenging time to find nurses, and especially limited term nurses. We do absolutely need the Guard and we're very appreciative of the support we've had from the National Guard because we wouldn't be able to do any of this without them."
-Story and images by Stephanie Hoff
WisBusiness.com