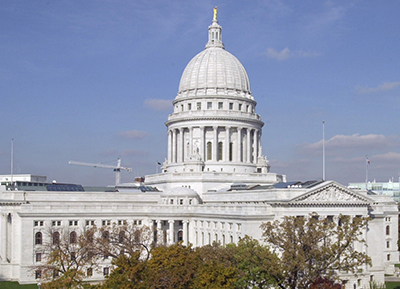 A bill to expedite the research contract review process at UW-Madison has cleared an Assembly committee with support from the Wisconsin Technology Council and university entrepreneurs.

The "Mark Cook Bill" was named after a UW-Madison animal sciences professor who headed the PROFS Entrepreneurial Work Group. His research spawned four companies, and led to 50 different patents. He died of cancer in late 2017.

"I knew Dr. Cook as a leading scientist at the UW-Madison, where his work included innovations in poultry and meat science as well as human and animal health," Tech Council President Tom Still said last week in testimony before the Assembly Committee on Constitution and Ethics.

Still and Cook also served together on the board of directors for one of the companies he helped launch. According to Still, Cook's work was often slowed by rules that "had either outlived their usefulness, stood at odds with processes at other major universities, or simply cost Wisconsin entrepreneurs time and money."


The bill, which passed the Assembly committee on a unanimous vote, would eliminate a 45-day passive review process that's required for any contract exceeding $250,000 over two years and tied to a faculty or staff entrepreneur.

"The bill will streamline and strengthen the process for approving contracts between private companies and nonprofits and the university when faculty or staff have a financial interest," said Jack O'Meara, spokesman for the PROFS group.

He says faculty from other universities "can't believe it exists," adding the requirement only slows down the process of commercializing research. He says cutting the 45-day review will make it more consistent with common practices.

"Forty-five days can be an eternity when you're trying to finalize a deal," O'Meara said.

According to Still, the bill would create a "much more reasonable process" to address conflicts while protecting the university's interests. He says the university already requires management plans for these contracts to meet federal standards, and the bill would cement that in state law.

The bill would also amend the definition of research company in state law to include nonprofits, as well as commercial businesses.

The PROFS group says current law holds UW-Madison back from bringing in research and development dollars from businesses and other entities. They group says companies connected to researchers at the university have been forced to bring initiatives such as clinical trials to other states.

Still said the Tech Council is backing the bill to make it easier for university-based entrepreneurs to bring their research to market, "and to do so in a transparent way that does not erect unneeded 'speed bumps' for innovations that create economic opportunity."

The bill was introduced by Reps. Dave Murphy, R-Greenville, and Sheila Stubbs, D-Madison; and Sens. Dan Feyen, R-Fond du Lac, and Fred Risser, D-Madison.

Last session, the bill passed the Assembly on a voice vote, before dying in the Senate after passing committee on a unanimous vote, according to O'Meara. He says "we are doing our best" to make the case for the bill to Senate leadership.

O'Meara says the full Assembly may take up the bill when it takes up non-budget legislation.

See the bill text: http://docs.legis.wisconsin.gov/2019/related/proposals/ab38
–By Alex Moe
WisBusiness.com