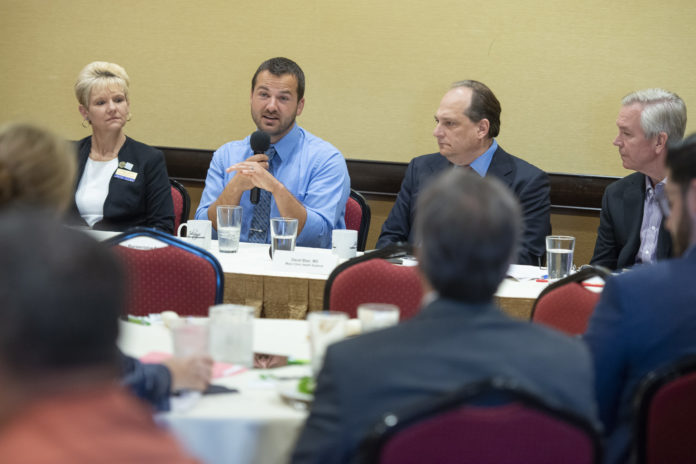 UW-Eau Claire's rural nursing specialist says the promise of widespread broadband internet and the technology it enables goes well beyond remote diagnosis.

"Through the connectivity with broadband, we can address issues around what we call the social determinants of health," said Pam Guthman, a clinical assistant professor for the university's College of Nursing and Health Sciences with three decades of experience caring for rural residents.

She spoke yesterday at a WisPolitics.com luncheon panel in Eau Claire focused on telemedicine and the potential of broadband throughout the state. Guthman noted that high-speed internet helps provide access to education, new types of flexible employment, and mental and behavioral health programs — all of which drive positive public health outcomes.

"So when you start thinking about health, you need to look at this from a lens that's a little bit broader than just only the tertiary care," she said. "There definitely could be a ton of ways that we could access and utilize telehealth."

Communication between care providers has been scaling up for the past several decades, according to Dr. David Blair, chief medical information officer for Mayo Clinic Health System in Northwest Wisconsin. And as technology improves, he says new ways for patients and doctors to interact are also being explored.

"What our ultimate vision would be on the provider side is that we would be able to deliver any care for a patient short of surgery from any location," he said.

WIN Technology CEO Scott Hoffmann provided numbers from the Federal Communications Commission showing 91 percent of Wisconsinites have access to at least one provider offering 25 megabits per second upload speed, which meets the benchmark for broadband internet.

"But the reality is, there is quite a gap yet in rural Wisconsin," he said.

Rep. Romaine Quinn, R-Barron, agreed that "there's still a huge need" in the state. He pointed out that federal figures don't always tell the whole story, as many rural residents may face major hurdles to getting connected.

Under former Gov. Scott Walker, the state began ramping up investments in broadband connectivity, spending about $500,000 per year starting in 2010. In 2016, the state put $35 million into broadband, with about $14.5 million of that going toward infrastructure.

And under Gov. Tony Evers, the state recently added $48 million in broadband funding to the biennial budget. According to Quinn, that amount is expected to leverage more than $100 million in total impact due to associated private investment.

"Is it enough? I think it's a lot considering how far we've come, and frankly we don't have enough manual laborers to get the fiber in the ground fast enough," he said. "So I think it's a good investment. We've come a long way."

Quinn touched on legislation that's up for a public hearing next week, which he says would ensure telehealth services would be covered by programs like Medicare or Medicaid.

"So our legislation tries to catch up," he said. "State government's usually always behind on pretty much anything when it comes to technology — including recognizing other practices."

Hoffmann explained that in many rural areas, telecommunications companies aren't making the needed requirements to support high-speed internet for far-flung residents. His Eau Claire company has been working in the upper Midwest since the late 1990s.

According to him, fiber optic cable costs about $30,000 per mile to build out, and offshoots to individual homes can cost over $5,000. He said that expense would be very difficult for these companies to recover, so the government has been stepping in to support their efforts.

Hoffmann noted the FCC has been investing billions into the largest telecom companies in the nation, and their work in Wisconsin is expected to bring broadband internet to hundreds of thousands of households.

"But even so, there's still a gap and there's still a lot of work to do," he said.

As Mayo Clinic Health System's Northwest Wisconsin regional medical information officer, Blair works closely with counterparts at Mayo Clinic in Rochester and elsewhere, coordinating responses to various medical situations. For some stroke cases, a neurologist in Rochester performs remote evaluations and helps decide where the optimal care can be delivered.

"As a family physician living in the community, we always try to keep everybody as close to home as we can that we feel comfortable caring for," he said.

As the capabilities for telehealth continue to improve, Blair said these technologies are becoming very easy for care providers to operate. But on the patient user side, he says difficulties remain.

"If we can get the device into the patient's hand, that goes a long way," he said. "Then it needs to be easy enough for the patient to use, which is a challenge. But there's actually a lot of companies out there developing tools that work in that area."

As an example, he said patients could use medical devices connected to a tablet or smartphone that could walk them through simple activities such as taking a blood pressure reading. He says providers are already doing "a fair amount" of patient monitoring using such devices — "which has actually worked out great."

"They don't have to come in and see us," Blair said. "We get great information, we know what's going on and we can talk to the nurses to have adjustments made in their medications … They never have to leave their beds in some cases."

Listen to audio from the discussion here: http://soundcloud.com/wispolitics/eau-claire-discussion-on-telemedicine-broadband
–By Alex Moe
WisBusiness.com