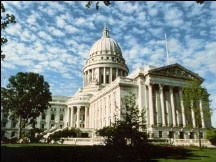 Eight years after Republican lawmakers derailed hopes for a commuter rail line connecting Milwaukee to Racine and Kenosha, a private company is studying whether to revive the idea.

But the plan by Wisconsin Transit & Realty Group — which could include trains to Waukesha and other suburbs — is likely to require some tax dollars, a significant political hurdle while the Legislature remains under GOP control.

WTRG is one of two local companies following different tracks as they compete to offer Milwaukee-area commuter rail service.
The other, Transit Innovations LLC, is making bold claims about building a privately funded $1.5 billion, 58-mile system from Milwaukee south to Oak Creek and west to Waukesha. Transit Innovations says it could open that system's north-south leg in time for the 2020 Democratic National Convention in Milwaukee.

Unlike its rival, WTRG is keeping quiet about its plans until it completes feasibility studies, company Vice President Michael Garven said. While Transit Innovations touts its proposal with a website, investor presentation and brochures, WTRG has revealed few details and hasn't released a route map. Garven said its system would be a public-private partnership, but he won't say how much his company would ask from investors and taxpayers.

Neither company has disclosed any investors beyond its executive team.
Because the Transit Innovations and WTRG plans would use some of the same freight tracks, owned by Canadian Pacific Railway and Union Pacific Railroad, only one can advance, Garven said. Union Pacific confirmed it has a letter of intent to work with WTRG. Garven said he has a similar deal with Canadian Pacific, which declined to comment. Transit Innovations President Greg Dugan said confidentiality agreements prevented him from discussing contacts with other companies.

Transit Innovations says Montreal-based Bombardier Transportation would manufacture and operate its trains. Bombardier confirmed it has an agreement with Transit Innovations.

As recently as Aug. 5, Transit Innovations' website offered several claims:

*That the Southeastern Wisconsin Regional Planning Commission "felt this length and route is the best path because there are already existing lines, there is a determined need along this line for commuter rail, this route is the most profitable at this time." The commission backs commuter rail but didn't recommend Transit Innovations' routes, Executive Director Kevin Muhs said. Transit Innovations consultant Bob Dennik said the commission issued a "letter of support." Muhs said he sent both companies supportive letters without endorsing either plan.

*That the planning commission "estimates there will be an additional 7,000 units of multi-family housing constructed as a result of this project." Muhs said his staff made no such estimate and doesn't believe development can be accurately predicted. Dennik declined to say where the estimate came from.

*That Spanish train manufacturer Talgo would maintain the trains at its Milwaukee plant. Talgo Vice President Nora Friend said neither Transit Innovations nor Bombardier had discussed maintenance with her company. Dennik insisted they had talked.

The references to the planning commission and Talgo were removed from the website after WisBusiness raised those questions.

Transit Innovations also claims bipartisan support from politicians, state and local governments, the business community and other groups. But officials in the administrations of Gov. Tony Evers and Milwaukee Mayor Tom Barrett, both Democrats, voiced only general support for commuter rail. Racine and Waukesha officials confirmed they had met with one or both companies, Kenosha officials didn't respond, and Milwaukee Metropolitan Association of Commerce President Tim Sheehy said he wasn't familiar with either company.

Dennik said Transit Innovations has "letters of support" from Barrett and some suburban leaders. City development spokesman Jeff Fleming released a letter in which Barrett voiced support for commuter rail but didn't mention any company by name.

Dennik has ties to former Republican Gov. Scott Walker, who signed legislation ending the publicly funded KRM commuter rail plan. He ran Walker's successful 2002 campaign for Milwaukee County executive, and Walker named him county economic development director.

Both the Transit Innovations and WTRG plans focus on "transit-oriented development," coordinating their rail lines with residential and commercial property investments near their stations. Transit Innovations estimates real estate will account for more than 70 percent of its budget. WTRG expects to run its rail line as a break-even service, relying on its real estate development to provide returns to investors, Garven said.

Most other U.S. commuter rail lines are run by public agencies that leave such development to market forces. The lone exception is Florida's Virgin Trains, a cooperative venture of Milwaukee Bucks co-owner Wes Edens' Fortress Investment Group and Sir Richard Branson's Virgin Group. Development is part of the business plan for privately funded Virgin Trains, which started running from Miami to Fort Lauderdale and West Palm Beach last year, with plans to expand to Orlando and Tampa.

The resurgence of Wisconsin commuter rail plans is a turnaround from 2011, when Republicans demolished passenger train expansion efforts after winning the governor's office and both houses of the Legislature.

Before then, the three-county Southeastern Regional Transit Authority was planning the KRM Commuter Link, a $284 million rail line to connect Kenosha, Racine and Milwaukee. But when legislative control shifted, the project's leading opponent, state Rep. Robin Vos, R-Rochester, became Joint Finance Committee co-chairman. Vos pushed through budget language killing the KRM by abolishing the RTA.

Vos is now Assembly speaker. His spokeswoman did not respond to requests for comment.
In his 2010 race for governor, Walker campaigned against a federally funded $810 million plan to extend Amtrak's Chicago-to-Milwaukee Hiawatha line to Madison with 110-mph service.
President Barack Obama's Democratic administration yanked nearly all that cash after Walker won. But because the line was designed as a Chicago-to-Madison route, planned upgrades to existing Hiawatha service became collateral damage.

Ridership has more than doubled since 2003, to a high of 858,267 in 2018, and more than 40 percent of trips are work-related, state officials said. Standing-room-only crowds led authorities to add coaches on rush-hour trains, state passenger rail manager Arun Rao said.

Walker pivoted and asked Washington to return $213 million for Hiawatha upgrades in 2011, but the feds refused. Still, the state continued to invest in the current service and plan for expansion.

Since 2011, transportation officials have spent $11 million of state money and $53.4 million of federal cash to improve Hiawatha tracks, trains and stations in downtown Milwaukee and at Mitchell International Airport. The recently approved 2019-21 state budget authorizes another $52.8 million in state funds, matched by $93.3 million of federal and railroad money.

Most budgeted funds would help expand service from seven daily round trips to 10, a two-state effort that could cost more than $200 million and take until at least 2025. An eighth round trip could be added as soon as 2023, depending on federal funding and negotiations with the freight railroads that own the tracks, Rao said.

Opposition in Chicago suburbs led the Illinois Department of Transportation to cancel two of that state's five Hiawatha track improvement projects, but that won't delay an increase to eight and possibly nine round trips, Wisconsin Transportation Secretary Craig Thompson said.
Transportation officials in both states said they are committed to working together.

Although the expansion won't be completed by 2020, Rao said the state is considering temporarily boosting capacity during the Democratic convention by adding coaches to trains, running a late-night eighth round trip or both.

— By Larry Sandler
For WisBusiness.com