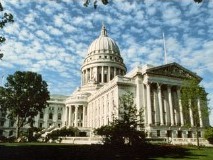 Plans to expand Amtrak's Milwaukee-to-Chicago train service are facing opposition from the freight railroad that owns the tracks.
Wisconsin lawmakers appropriated $35 million of state money in the 2019-'21 budget to boost the Hiawatha line from seven to 10 round trips daily. Counting funds from the federal and Illinois governments and the railroads, that effort could cost more than $200 million and take until at least 2025.
But in a letter to the Wisconsin Department of Transportation, Canadian Pacific Railway says it won't agree to any increase in Hiawatha trips on its tracks until all related improvements are completed on the route — including two projects that have been canceled.
Responding to opposition in the Chicago suburbs of Glenview and Lake Forest, the Illinois Department of Transportation dropped plans for a track improvement project in each of those communities. However, Wisconsin Transportation Secretary Craig Thompson said that decision wouldn't stop the Hiawatha from adding an eighth and possibly a ninth round trip. Wisconsin passenger rail manager Arun Rao said the two states were working together to find other ways to keep the project moving forward without the canceled projects.
After WisBusiness.com and other news media reported about the Hiawatha expansion push, Canadian Pacific released a letter from Chuck Hubbard, who oversees the company's relations with U.S. passenger railroads.
In his letter to Rao, Hubbard called the canceled Illinois projects "necessary to the viability of the overall project" and added, "Without these improvements, CP cannot support any additional Amtrak Hiawathas in this corridor." He warned that if Wisconsin moves ahead with planned track improvements in this state, "it does so at its sole risk that there will be no additional Hiawatha starts."
Wisconsin DOT spokeswoman Mae Knowles said her agency respects Canadian Pacific's concerns but still hopes to reach an agreement with the railroad to allow the Hiawatha expansion. She noted that the effort is "a multi-year process," requiring a series of different federal grants, and that gives the states and railroads time to work out alternatives.
"This service is too important to the business community and the regional economy not to proceed," Knowles said.
At a July 17 news conference on the project, Metropolitan Milwaukee Association of Commerce President Tim Sheehy called the Hiawatha a vital link to the Chicago market. State officials said more than 40 percent of Hiawatha trips are work-related.
Hubbard's letter is dated June 26, the same day the Senate approved the budget and sent it to Gov. Tony Evers. Using his partial veto power, Evers removed a requirement for the Legislature's Joint Finance Committee to release $25 million in gas tax money for the project. DOT still needs the panel's approval to use $10 million of new borrowing power and $11.6 million of previous bonding authority. Most of the borrowed money would be spent on new train cars, while the rest of the bond funding and all of the current tax dollars would go to track and station projects, Rao said.
The Wisconsin projects would add a second platform to the Mitchell International Airport station, upgrade signals near the downtown Milwaukee station and add two new tracks in the Menomonee Valley's Muskego Yard for freight trains to bypass the downtown station. Federal officials have approved funding for the first two projects, but are still considering the state's application for a $39 million grant for the $60 million Muskego Yard job.
Rao said the Muskego Yard project would be critical not just for the Hiawatha expansion, but for any additional passenger trains to use the downtown Milwaukee Intermodal Station, including commuter rail and expanded Amtrak service to Minneapolis-St. Paul.
Two private companies, Wisconsin Transit & Realty Group and Transit Innovations LLC, are competing to offer commuter rail service, and both hope to use the state-owned downtown and airport stations. State and local officials haven't endorsed either company's plans, but Milwaukee's city government has a $1,000 option to buy a three-quarter-acre Walker's Point site that could become a commuter rail station if either plan succeeds, city development spokesman Jeff Fleming said.
Also, the Minnesota Department of Transportation is leading a study of adding a second daily round trip between Chicago and the Twin Cities. That route is now served only by Amtrak's Empire Builder, which stops in Milwaukee and other Wisconsin cities before continuing to the Pacific Northwest. Although the Legislature rejected Evers' request to borrow $10.8 million for the $76 million project, Wisconsin's DOT still has enough money to continue planning, Rao said.
In a separate development, WTRG Vice President Mike Garven said his company's commuter rail plan would not require any state or local tax dollars. Garven had referred to the effort as "a public-private partnership," but he clarified this week that his company would seek only federal aid to supplement investor dollars. WTRG won't know how much money it needs — and doesn't intend to release most details of its plans — until it completes feasibility studies in six to nine months, he said.
However, it's not clear how WTRG would obtain federal aid without state involvement. Federal transportation dollars typically flow through state transportation departments and are usually matched by state or local tax money for other commuter rail lines, which are almost always run by public agencies. The only private U.S. commuter railroad — Florida's Virgin Trains, a joint venture of Milwaukee Bucks co-owner Wes Edens' Fortress Investment Group and Sir Richard Branson's Virgin Group — doesn't get federal grants but was backed by federal loan guarantees. Garven said he agreed with those statements but declined to elaborate.
"We are not self-promoters looking for press or to attract investors," but are following a deliberate process in working with the railroads that own the tracks, Garven said of WTRG's low-key approach. By contrast, rival Transit Innovations has publicized its plans with a website, brochure and investor presentation, seeking to raise nearly $1.5 billion from the private sector.
See the previous WisBusiness.com story on the rail effort: http://www.wisbusiness.com/2019/private-company-exploring-milwaukee-area-commuter-rail-service/
— By Larry Sandler
For WisBusiness.com