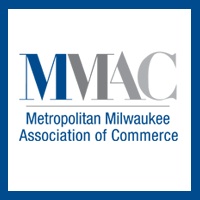 The Milwaukee 2020 Host Committee is enlisting the aid of local businesses in telling the city's story as it prepares for next summer's Democratic National Convention.

"If Tom Perez, our national party chairman, wanted to pick a city that was the most logistically convenient and expedient to host a convention, he probably would not have come to Milwaukee," said Liz Gilbert, president of the committee. "He chose Milwaukee, because of the story that there is to tell here, and the impact that this event can have on the people of this community and this state."

She addressed members of the Metropolitan Milwaukee Association of Commerce on Friday to answer questions, address concerns and provide a rough timeline ahead of DNC 2020, which takes place July 13-16.

"There will be 50,000 visitors here next year, and with Milwaukee certainly up to the challenge in a way that I actually don't think I've seen a city come at this before," she said.

MMAC Senior Vice President of Governmental Affairs Steve Baas noted Gilbert has previously organized several Democratic National Conventions and also worked for the New Jersey Democratic State Committee.

"This is not her first rodeo; she's one of the top pros in the business," Baas said.

In her comments, Gilbert called the host committee "a $70 million startup organization."

"We are a small business; we are a new business in town," she said. "We had to recruit talent, we had to house them, provide health care — we're doing everything that you know about very well, so we are your partners in this business community."

She explained the host committee is separate from the Democratic National Convention Committee, with the DNCC handling the official political elements of the event, including official convention spaces as well as the movement of delegates. The host committee is responsible for funding, organizing and other elements, including signing up 50,000 volunteers by next year.

"You will never hear the host committee talk about beating Donald Trump or turning Wisconsin blue," she said. "We want lots of people with lots of different beliefs. We know the economic impact here sees no color other than green."

Gilbert expects to put out requests for proposals on a rolling basis, with some of the smaller RFPs coming in the next few weeks, and larger ones planned for later in the year.

The committee is launching a venue portal on its website next week, giving companies another chance to sign up and get involved with DNC 2020. A venue directory will be created so groups coming to Milwaukee can pick and choose locations with the guidance of the host committee. And a venue information session is being held Sept. 9.

Whether the venue is for a 20-person roundtable or a party for 4,000 guests, Gilbert said the directory will help ease the decision-making process and get more local companies involved.

"The best way to know that we are putting forth our best assets in the city is just to ask the city for their assets," she said. "In addition to our volunteer portal and our vendor portal, we will now have a venue portal."

Gilbert says the committee is focused on hiring local, diverse businesses and union labor for some elements. She said there's no focus on large or small companies, but rather those that can help paint a picture of the city's identity.

"We are going to have visitors throughout this entire next year, and they are coming to your restaurants, they are going to need your products," she said. "They want to know about the city, they want to know what it feels like to be here … So we've engaged many of you in acting as storytellers for our visitors. That is only going to ramp up like crazy."

The perimeter of the conference will be announced in January, according to Gilbert, providing more concrete information for companies in the area. She says the conference's security managers have said businesses won't be shut down, though interruptions are unavoidable.

"They really care about what it means to Milwaukee that the convention is here," she said.

Keep up with developments at the committee's website: http://www.milwaukee2020.com/