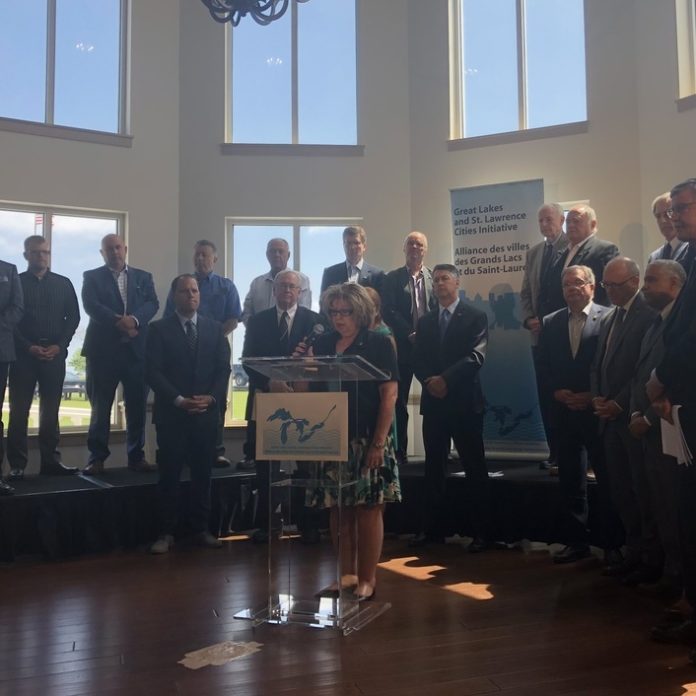 Four Wisconsin mayors have signed a declaration from the Great Lakes and St. Lawrence Cities Initiative urging the federal government to jumpstart a project to contain invasive Asian carp.

"The Asian carp are knocking on our Great Lakes' door," said Mike Vandersteen, mayor of Sheboygan, where a press conference was held yesterday to highlight the declaration. "The Great Lakes region has already worked through the Rust Belt years, and now as we move into a brighter future. … We cannot afford another major setback."

Aside from Vandersteen, the declaration was signed by Mayors Tom Barrett of Milwaukee, Justin Nickels of Manitowoc and Jim Paine of Superior. It was also signed by a number of mayors and elected officials from Canada.

Asian carp were first introduced in the southern United States to help keep ponds and other bodies of water clear of algae. But in the 1970s, these fish escaped into the Mississippi River and are now making their way up toward the Great Lakes.

That's worrisome because Asian carp crowd out local fish populations and impact related ecosystems, harming local fishing, water sports and tourism industries.

These invaders can grow much larger than the common carp found in the United States. That larger size, combined with a tendency to leap out of the water, can lead to dangerous accidents, damaging boats and injuring boaters.

If Asian carp were to enter the Great Lakes and eventually the St. Lawrence River system that cuts through portions of Quebec and Montreal, the economic harm would be around $7 billion, according to the declaration.

To avoid that cost, the mayors and other elected officials backing the declaration are urging the federal government through the U.S. Army Corps of Engineers to complete a recommended project ahead of schedule at the Brandon Road Lock and Dam, about 180 miles away from Sheboygan, near Rockdale, Ill.

This project would create a structural barrier in the waterway there, designed to keep Asian carp from getting past that point.

"Experts believe that Brandon Road is a likely entry point for Asian carp to establish themselves in Lake Michigan and the Great Lakes," said Niagara Falls Mayor Paul Dyster. "As mayor of Niagara Falls — whose economy is totally dependent on the protection of our natural environment — control of invasive species, especially Asian carp, is vital to our future economy."

As an example, he pointed to a new tour boat being fabricated in Manitowoc. Dyster says between that boat and its Canadian counterpart, millions of people are brought to view the falls up close every year.

"Can you imagine jumping Asian carp finding their way to the base of Niagara Falls and putting those folks out of business?" Dyster said. "That's one economic impact. I'd estimate it at between $200 and $250 million, for just that one consequence."

The declaration calls for completion of the Brandon Road project by 2022, about 5 years ahead of the estimated completion date set by the U.S. Army Corps of Engineers.

"We have been working on this issue and the dates just keep moving back further and further," said John Dickert, president and CEO of the Great Lakes and St. Lawrence Cities Initiative. He says that's because requests keep coming for additional studies.

"What we're saying is that you need to move up to the original timeline we're looking at, and move this process forward," Dickert said. "There's some purchasing of land that's got to be done. But the reality is, what the mayors are saying now is, enough with the studies. We cannot wait for the impact of Asian carp getting through."

The signed declaration is being sent to eight different governors, "highlighting the need to act quickly and decisively," according to Quebec Deputy Mayor Michelle Doyle. (pictured here) The Initiative and the mayors aim to drum up more support for the effort, to put more pressure on Congress to act on the issue.

"The good news is, the appropriations are at the federal level," Dickert said. "Our call to governors is to come together on this issue, so that they are all coordinating their message to the federal government."

See the declaration here: http://www.wisbusiness.com/wp-content/uploads/2019/06/Declaration_Asian-carp.pdf
–By Alex Moe
WisBusiness.com