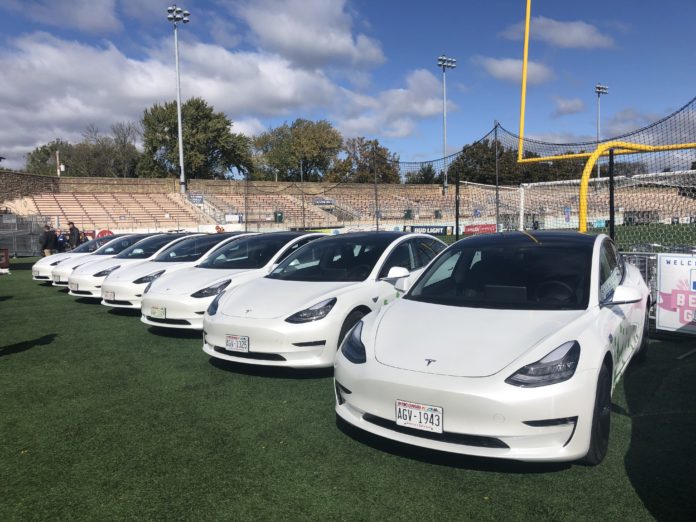 Tech entrepreneur Shree Kalluri wants to make Madison the most sustainable city in the world — starting with its taxi cabs.

"We can reach to the disenfranchised. We can provide new employment opportunities. There is so much that can be done if you solve the transportation problem," he said. "We want to solve it."

Kalluri, who founded a Madison startup called Zerology earlier this year, was joined yesterday by Lt. Gov. Mandela Barnes and company leaders from Green Cab of Madison. They announced Green Cab is replacing its Madison hybrid vehicle fleet with fully electric Tesla Model 3s.

He says the partnership combines two significant business trends: the nationwide push toward zero-emission vehicles; and rapid adoption of ride-sharing apps.

"If you can put more people in a car, and if that car is zero emmisions, then we are taking so many vehicles off the street," Kalluri said.

Through the new effort with Zerology, Green Cab will lower its emissions to zero as it swaps out its existing hybrid vehicles with the electric fleet, starting Oct. 23. Green Cab of Madison was launched in 2010, and has since driven more than 30 million miles with over 8 million riders.

Jodie Schmidt, co-founder and president of Green Cab, said yesterday the company's hybrid fleet has saved 1.9 million gallons of fuel compared to traditional cabs in the past decade or so.

Kalluri noted emissions have risen nearly 50 percent in Madison over the past 30 years, and Barnes added the majority of those emissions come from the transportation sector.

"This is going to kill our city, which is a beautiful city, which is our home," Kalluri said. "We cannot just wait for some rescuer to come and save us. We've got to act — we've got to act now. Emissions are real. The impact on climate is real."

At yesterday's event, Barnes called on companies in the state to support Evers' goal of reaching 100 percent clean energy by 2050.

"While there's a lot that we can do inside of state government, these are goals that require a significant amount of participation and cooperation with private industry to make it happen, to make this a reality for the entire state of Wisconsin," Barnes said.

Barnes is leading the state's effort to reach the 2050 clean energy goal through the new Office of Sustainability and Clean Energy. He said utilities such as Madison Gas & Electric are on board but added the state won't meet its target without "significant effort" from the transportation sector.

Kalluri stresses that the partnership with Green Cab is only the beginning of a much broader effort to bring vehicle electrification and management to other transportation industries in the greater Madison region.

"What if all the transportation of goods was using electric vehicles? What if we can extend the reach of the Madison metro and solve the first mile and last mile problem by using electric vehicles to bring people in from other places?" he said.

Zerology is also working with Green Cab, MGE and Tesla to develop a solar car charging station at Green Cab's facilities in Madison.

"This is just the first of many initiatives we have in the pipeline to improve mobility in Madison," said Kalluri. "We'll be moving quickly, because our climate crisis requires urgent action."
–By Alex Moe
WisBusiness.com