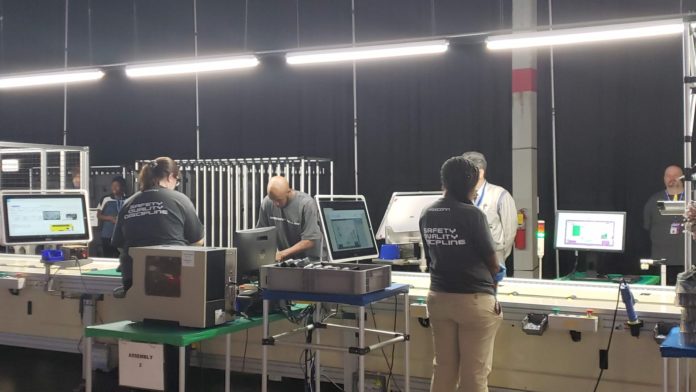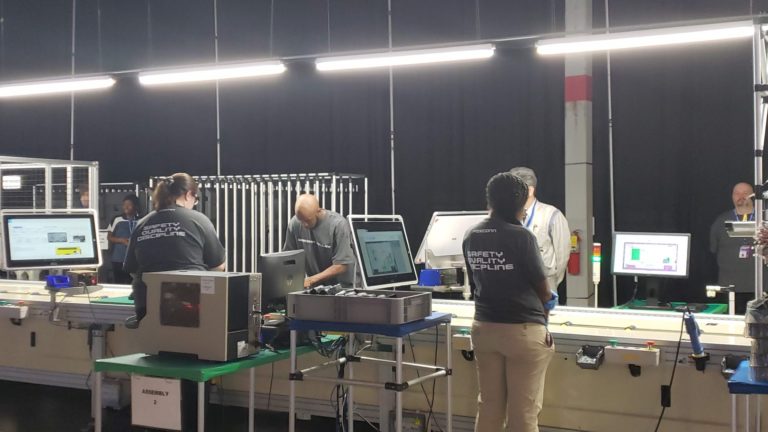 Wisconsin's southern border communities will need to ramp up their tech job training efforts to meet the demands of Foxconn and other large local employers, according to a panel of Kenosha area leaders.

"Workforce needs are huge at every single level," said Revenue Secretary Peter Barca, a former Kenosha-area state representative and congressman who also worked for the Small Business Administration. "This is going to be one of the major challenges that we have."

He spoke Monday at Kenosha's Civil War Museum for the latest installment of WisBusiness' Navigating the New Economy discussion series. Panelists touched on how new technologies, job training programs and higher education partnerships can be leveraged to supply the area's quickly growing economy with skilled workers.

Rep. Samantha Kerkman, R-Salem, says businesses in her district are already struggling to find qualified workers. And with large companies like Foxconn, Uline and Haribo expanding their operations in the area, she stressed the need for higher education to be "very nimble" when it comes to meeting the needs of those and other employers.

"I really think that it's not an exaggeration to say that we are in the middle of perhaps the greatest economic expansion of anywhere in the United States," added Rep. Tod Ohnstad, D-Kenosha, a former autoworker. "I think that we are just seeing the very beginning of that, with or without Foxconn, and I think it's going to be with Foxconn."

Barca, who's also on the board of the Wisconsin Economic Development Corp., emphasized computer science training programs "at every level… starting with kids in elementary school."

One important part of that effort, he said, is expanding high-speed broadband access. He noted that Gov. Tony Evers proposed in his budget having a statutory standard set for internet speeds of uploading and downloading information, which would be a first for the state.

"That's vitally important, making sure we have the internet capacity," Barca said. "It's so vital in our area, because part of Foxconn's whole goal is to bring 8K-5G technology in all of its applications here in Wisconsin."

Kerkman painted a rosy picture of Foxconn's future in the state, using Amazon as a comparative example. She noted when Amazon first made the commitment to come to Kenosha County, the company said it would create 1,000 jobs.

But plans changed and Amazon ended up creating about 1,500 jobs before even opening its doors in Kenosha County. Now, Amazon employs about 4,700 people there, Kerkman said. Foxconn initially promised 13,000 jobs by 2032 at its Racine County facility, but critics have questions the Tawainese company's commitment to that number, environmental standards and worker treatment. Foxconn employs about 1,000 people across the state, Kerkman said.

"Whether they're making TVs or not, they are coming here, and they are going to create jobs," she said.

In order to fill the technical, skills-based jobs expected to be created in the region, Kerkman said higher education institutions and the state's business community should work together on training young people to understand technology.

Aside from equipping Wisconsin's young professionals with the skills needed for the modern workforce, panelists also highlighted the need for strategies to keep young people from moving out of the state.

Although the state's demographics are shifting in the opposite direction, Carthage College Professor Cassie Lau has seen some hopeful signs in the seven years she's spent in Wisconsin.

"On the positive side, our students are much more willing to stay in the area… than seven years ago," she said. "But then definitely on the employment front, as everyone says, there is a strain."

She noted Kenosha County has 3.1 percent unemployment, which she said is "really not sustainable" for companies in the area.

"Even if they are able to attract workers, there is a lot of high turnover," she said. "Supposedly it costs about 125 times salary to replace someone mid-level. So it really is a problem if you're losing people. So we have to find ways to get more people into the area."

Heather Wessling, vice president of economic development for the Kenosha Area Business Alliance, has noticed "an increasing capacity and willingness by our companies to work with our colleges."

She says that helps colleges and technical schools in particular understand the labor challenges businesses are facing.

"I think they're more open to apprenticeship programs, internships, working with a younger population so they understand what types of opportunities are here," she said. "I see lots of collaboration. When they work together, they help to bring people to the area."

She said education partners and business leaders should be aware of "critical positions" at companies in the region and should work to get young people involved in related programs.

"We have these types of opportunities," she said. "They're growing."

Listen to audio from the luncheon: http://soundcloud.com/wispolitics/navigating-the-new-economy-the-booming-border

See more on the WisBusiness series, Navigating the New Economy, sponsored by WAGET and others: https://www.wisbusiness.com/2019/navigating-the-new-economy-roundtable-discussions/