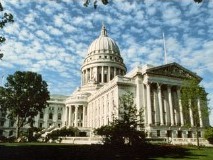 WEDC Secretary and CEO Missy Hughes is touting the Evers administration's work to ensure the Foxconn project will be successful for taxpayers.

"I think that the key to making it a good deal — because it has to be a good deal, right, we're in, we're doing it — is to make sure that we have open communication," she said yesterday.

Hughes, appointed by Gov. Tony Evers on Sept. 5 to replace outgoing WEDC CEO Mark Hogan, said at a WisPolitics.com luncheon in Madison she intentionally avoided diving straight into the Taiwanese electronics manufacturer's project in southeastern Wisconsin after taking the job on Oct. 1.

Instead, she prioritized travel to nearly every other part of the state in order to get "a good feeling for what was happening as far as economic development goes."

"If we want small businesses to access economic development programs and things like that, I don't want them to think that economic development in Wisconsin is only Foxconn," she said.

But Hughes said after immersing herself in the Foxconn deal, she came to realize the transition from former Gov. Scott Walker to Evers meant "the Foxconn conversation … had to restart in the last 10 months."

Still, she praised Evers and the new leaders of the departments of Administration and Transportation and the Public Service Commission for "working incredibly hard in the southeastern region putting in the infrastructure."

Quizzed as to whether she thought the deal was "good or bad" for the state, Hughes said she didn't think it was "a black and white question."

"I think the question is how do we make it successful for Wisconsin and for Foxconn," she said.

On that front, Hughes said she has met with Foxconn's leadership and praised them for being "super positive about being in Wisconsin" and "really thinking far down the line."

But she said it would be important to balance the needs of a company whose market is "changing on a daily basis" with the interests of a state government that had "committed taxpayer resources to helping a whole series of development in southeastern Wisconsin."

"We want to make sure that those two can proceed together on a parallel path, but they're dynamic and moving and so we have to get those pieces all lined up," she said.

Still, Hughes said she understood many of the concerns raised about the Foxconn deal, particularly in regard to workers coming from out of state to work on the project in southeast Wisconsin.

But she said that while Foxconn was recruiting in places like Georgia and Kentucky, the influx of workers was designed to make the state a central component to the "whole vertical conversation" of smart manufacturing in the United States.

"If we don't participate in that conversation, we're going to miss out even more," she said.

See more from Hughes in the WisPolitics.com Friday Report.
–WisPolitics.com