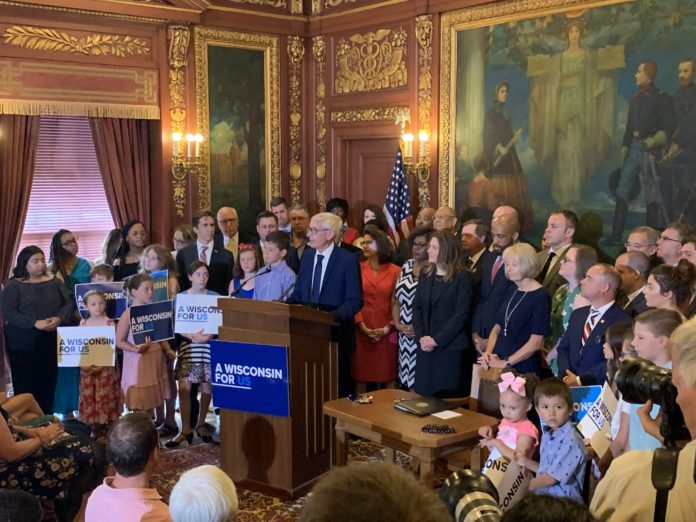 Gov. Tony Evers signed the two-year budget Wednesday after using his partial veto authority to make changes to Republican proposals on transportation funding and vehicle fees.

Evers said he seriously considered vetoing the entire budget GOP lawmakers sent him late last week, adding it fell short of his original plan and knocking Republicans for failing to embrace his call to expand Medicaid.

But he also said he promised voters last fall he would put politics aside as guv. And he vowed to continue pushing for the state to accept federal money under the Affordable Care Act to expand Medicaid in the state.

The proposal was the centerpiece of Evers' budget, but Republicans rejected the plan and dismissed it as a push to expand welfare.

Evers vowed to continue the push by whatever means available, including going to the voters next fall and targeting Republicans he said were in "Medicaid expansion denial."

"We're going to get them to a better place or find better legislators to get us there," Evers said.

Evers used his line-item veto authority 78 times, matching the average number of partial vetoes Wisconsin governors have used on budget bills over the last decade. Over the past 30 years, governors have issued an average of 137 partial vetoes, according to the Legislative Reference Bureau

Some of the vetoes:

*wiped out a provision to spend $2.5 million to study implementing a mileage-based fee for funding roads along with another look at tolling. Evers wrote in his veto message that he objected to a study that he claimed would show his plan to boost the gas tax by 8 cents per gallon was "the most cost-effective way to collect revenue." The Joint Finance Committee pulled that measure from the budget and Evers Wednesday called on the Legislature to "stop stalling and act to secure a long-term transportation funding solution."

*wiped out $15 million in general purpose revenue that Republicans had earmarked for local road projects. The GOP budget provision had called for $90 million, but Evers reduced that to $75 million.

*eliminated a requirement for DOT to build a new interchange in Brown County as part of the expansion of I-41 to three lanes from two over a 23-mile stretch. He wrote the determination of whether that interchange should be built should be left to the agency, not lawmakers.

*kept existing registration fees on heavier vehicles. The GOP budget modified the registration fee for certain weight classes to a uniform $100. Evers' veto means owners of trucks that weigh 6,000-8,000 pounds will continue to pay the current fee of $106, while those that are 8,000-10,000 pounds will still pay $155. The net impact is $7.2 million more to the transportation fund than the GOP plan.

*eliminated a provision that would've allowed electric car manufacturer Tesla to sell directly to consumers rather than through a dealer. The provision was added as Republicans sought to secure the vote of Sen. Chris Kapenga, R-Delafield. Kapenga, who has pushed a similar proposal in past legislation, owns a business that refurbishes Teslas and sells parts for the cars.

*killed limits on local restrictions on the operation of a quarry. Backers had argued the provision would've helped lower the costs to produce aggregate for road projects. Walker vetoed a similar measure that Republican lawmakers included in the 2017-19 state budget.

*removed a provision that would have required the Department of Transportation to submit a request for approval to the Joint Finance Committee to use expenditure authority under a new appropriation for passenger rail development. Evers wrote he objects to the "needless" oversight requirement.

*eliminated a provision that would have required the Wisconsin Economic Development Corp. to allocate at least $500,000 each year of the biennium for fabrication laboratory grants. Evers wrote he cut this section because he opposed lawmakers limiting the agency's authority.

See more on the budget action: http://www.wispolitics.com/2019/evers-pumps-more-money-into-k-12-through-partial-vetoes-as-he-signs-budget/

See reaction at the WisPolitics.com press release page: http://www.wispolitics.com/2019/07/03/