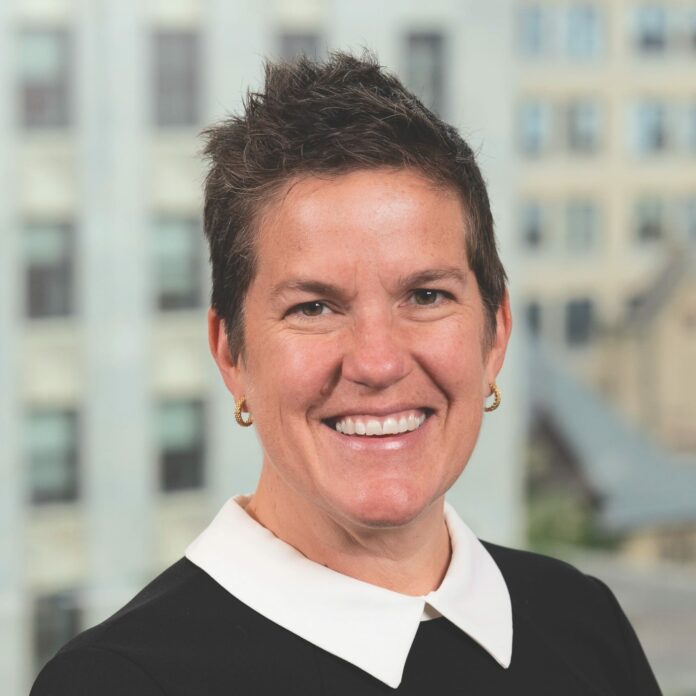 The head of WEDC wants the agency's $50 million venture capital fund to have an impact outside of the state's main startup hubs of Madison and Milwaukee.
Wisconsin Economic Development Corp. Secretary and CEO Missy Hughes was the featured guest at yesterday's WisPolitics.com luncheon in Madison. Among other topics, she discussed goals for the Wisconsin Investment Fund, supported by a grant from the federal State Small Business Credit Initiative.
"We're really focused on making sure that that opportunity reaches to our rural areas," she said. "It's very easy to think about startups coming out of UW-Madison, or startups coming out of Milwaukee, but we want to be thinking about all of our different communities and what's happening with entrepreneurs there."
Since landing the initial seed funding from the U.S. Department of the Treasury, the agency is looking to partner with other VC funds that will provide matching investment dollars to maximize the fund's impact, Hughes said. Those partners will also help guide the WEDC fund's investments. While it's currently in the pre-launch stage, the fund aims to leverage more than 10 times the initial investment over the coming decade, the WEDC site shows.
Although Wisconsin has seen rising levels of venture capital investment in recent years, Hughes noted many companies seeking funding still look to other national hotspots for startup activity and end up leaving the state.
"And so we're losing these companies to other places in the United States, whether it's Austin or Boston, and we want to keep those businesses here," she said, adding the Wisconsin Investment Fund is "all about investing in Wisconsin companies so they can stay and grow here."
While the earlier $25 million Badger Fund of Funds was meant to provide support in the initial stages of startup development, Hughes noted the agency's new fund is focused more on later stages when venture capital would typically step in. She said WEDC is having conversations with the managers of funds that got investments from that earlier effort as it develops its own plans.
Gov. Tony Evers in his latest budget proposed putting $75 million into a second fund of funds program, though the Legislature's Joint Finance Committee has removed that provision as part of ongoing budget deliberations.
Hughes yesterday touched on some of the top challenges and opportunities facing Wisconsin businesses, noting the state's workforce shortage is holding back manufacturers in particular. While these companies are seeing strong demand for products, "they can't keep up with orders" because of difficulties with filling shifts, she said.
"It's that lost opportunity that I guess worries me," Hughes said. "And that we're on the cusp of being able to take advantage of things like the new energy infrastructure, or taking risk to enter into a new market, and because of the challenges around workforce they maybe aren't able to do that."
Businesses will need to find ways to boost productivity through automation and other modernization efforts to take full advantage of those opportunities, she argued.
WEDC's role is to help them strike the right balance between moving into new product areas — such as electric vehicle parts — and continuing to serve existing markets, Hughes explained. She added the agency's tax credit programs can help reduce the risk of expanding into emerging markets.
When asked how to maximize the state-level impact of new federal dollars coming through the Inflation Reduction Act, the Bipartisan Infrastructure Law and the CHIPS and Science Act, Hughes said Wisconsin will need to aggressively pursue funding from these programs.
"If we don't … try to achieve that same effort of obtaining those federal dollars, we're going to fall behind," she said. "And so the key to those federal dollars is this real kind of private-led mindset that the federal government has taken with those."
Hughes also touted the agency's role in supporting local companies throughout the pandemic, pointing to a recent study showing Wisconsin had the second-highest rate of small business survival between 2010 and 2020. Only Iowa performed better.
She attributed that strength to "the tenacity of our small businesses" as well as the Small Business Development Center network, chambers of commerce throughout the state and "shop local" efforts at the community level.
Watch a video of the luncheon here: https://wiseye.org/2023/05/16/wispolitics-com-luncheon-with-wedc-ceo-missy-hughes/
See more on the Wisconsin Investment Fund: https://wedc.org/programs-and-resources/wisconsin-investment-fund/ 
–By Alex Moe