MINOCQUA, WI – The Minocqua Brewing Company, led by its owner Kirk Bangstad, has formally added Oneida County to its lawsuit against the Town of Minocqua and several key public figures, alleging violations of both the United States Constitution and Wisconsin state law.
"This isn't just about a business; it's about standing up for the core values that our nation was built on," said Bangstad. "We cannot stand by and let our constitutional rights be trampled upon both at the town and county levels."
The lawsuit, originally filed in late August against the Town of Minocqua, is rooted in the protection of individual and business rights, and claims a continued pattern of authoritarian conduct, political retaliation, harassment, and intimidation by the defendants.
"Our company has always strived to be a positive force within the Minocqua community," said Bangstad. "To face such blatant discrimination and obstruction from not only the Town of Minocqua but also Oneida County, based on personal or political beliefs, is both disheartening and fundamentally wrong."
Of significant concern is the allegation that the defendants from both the town and county have retaliated against the Minocqua Brewing Company and Kirk Bangstad for criticizing local government and publicly espousing progressive views. Minocqua Brewing Company asserts that the selective enforcement of ordinances against the Minocqua Brewing Company and the intentional obstruction of the zoning process is an unconstitutional and retaliatory response to Minocqua Brewing Company's political activities. Moreover, it is alleged that biased members from both the Town Board of Supervisors and Oneida County have been permitted to decide on zoning matters related to the Minocqua Brewing Company.
"Every business deserves a fair shot, and what we've experienced is a deliberate attempt to undermine our success at multiple governmental levels. We just want an even playing field," Bangstad added. "It's troubling to think that those with personal biases are influencing decisions that impact our business and community."
Additionally, the lawsuit claims that the defendants have engaged in a campaign of intimidation against the brewery, filing complaints without proper authority and discriminating against them while ignoring similar complaints about other businesses.
"These actions, from both the town and county, seem less about upholding any sort of law and more about settling personal political scores. It is time for accountability," Bangstad emphasized.
The Minocqua Brewing Company and Bangstad urge the courts to ensure that the rule of law is upheld and to hold all the defendants accountable for their purported actions.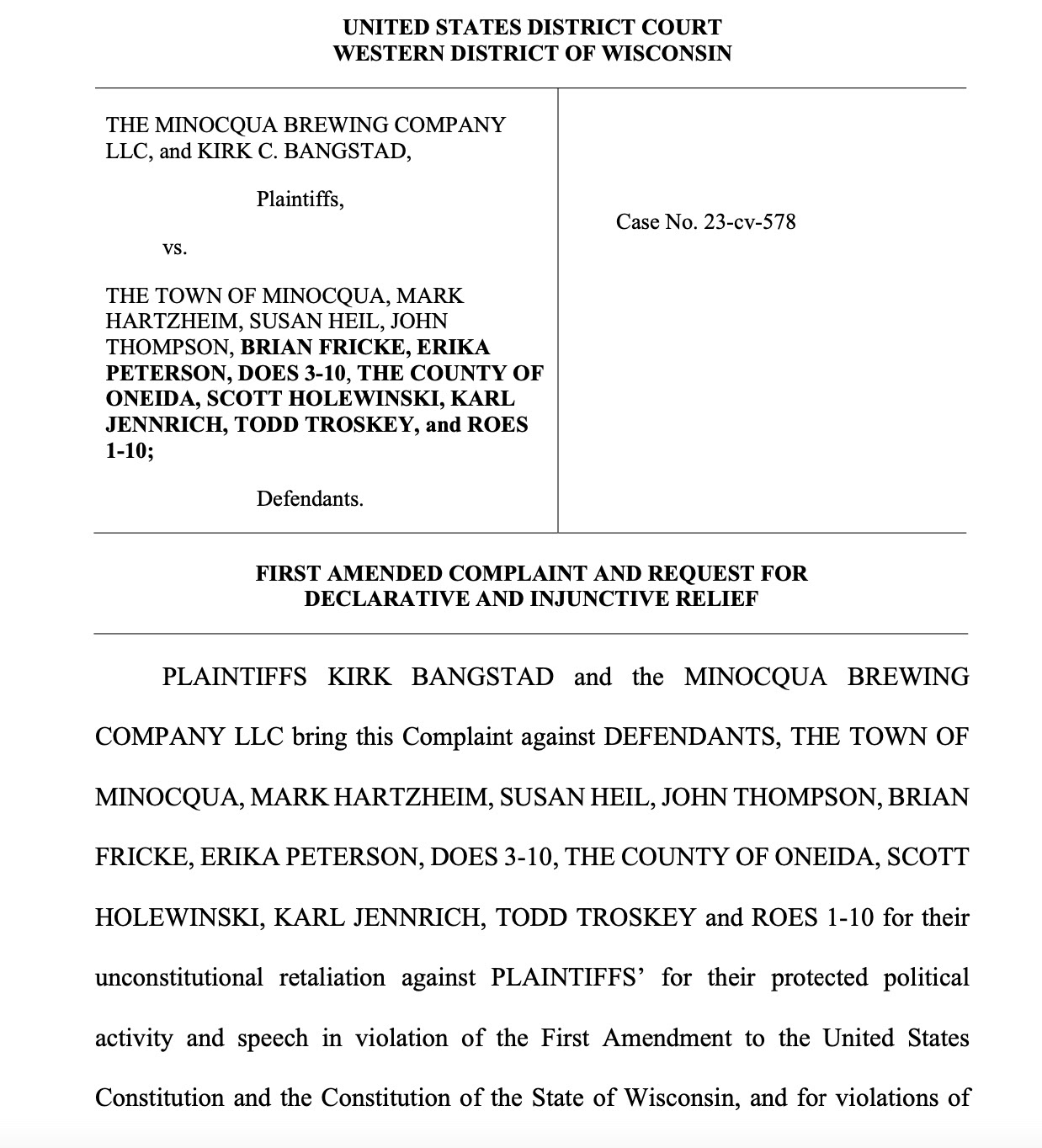 The Minocqua Brewing Company has become a strong progressive voice in Northern Wisconsin, drawing thousands of tourists from across the country to our historic taproom in downtown Minocqua. More information is available at: MinocquaBrewingCompany.com.