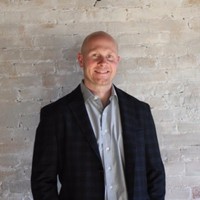 A partner with Madison-based Rock River Capital Partners says many young entrepreneurs in the state need to reset their funding expectations as they meet with venture capital firms.
Speaking during a recent Wisconsin Technology Council meeting held at UW-Whitewater, Andy Walker explained coastal startup culture is "a lot more cutthroat" than the Midwest. When meeting with early-stage companies that aren't a good fit for investment, he said he strives to be supportive but direct in turning them down.
"A lot of times though, the second we give them a meeting, they think 'I'm getting funded,'" Walker said, noting it takes about a dozen meetings on average to reach the point of making an investment. "Before we invest, we've probably seen the company and followed it for over a year, right? This isn't how it works. We don't have one meeting and hand you a check. And I think we have this very kind of naive mentality in a lot of these young entrepreneurs."
Walker also discussed the VC firm's strategy for bringing in other investors on rounds that exceed its typical capacity. The $27 million fund can write checks between $250,000 and $1.5 million, but that doesn't keep it from participating in larger rounds, he noted.
The firm networks with many other VC funds from around the country, and encourages them to get involved with deals that seem especially promising.
"What I've learned is if it goes really well, we're going to need more money. If it goes really poorly, we're going to need more money," Walker said.
While Rock River Capital Partners describes itself as "industry agnostic," Walker noted the firm often targets software companies for potential investments because that's his area of expertise and such ventures are often less capital-intensive. He said startups that appeal most to venture firms have the potential for huge growth while remaining efficient with funding.
"For it to be a VC-backed company, we've got to see a [10 times] return on our money. We've got to see market sizes that are just massive," he said. "We're going to lose 100 percent of our money on a third. We're going to lose some of our money on the next third. So the winner's got to be really, really big."
He added investors in the fund typically expect to triple the money they put into it, which drives the focus on companies with greater potential for growth.
The Tech Council on Monday is hosting the 10th annual Wisconsin Tech Summit in Green Bay, featuring panel discussions, a keynote speech from Green Bay Packers President and CEO Mark Murphy, and strategic meetings between early-stage companies and investors.
See more event details here: https://wisconsintechnologycouncil.com/wisconsin-tech-summit/
Listen to an earlier podcast on Rock River Capital Partners:
See more on the firm: https://www.rockrivercapital.com/ 
–By Alex Moe