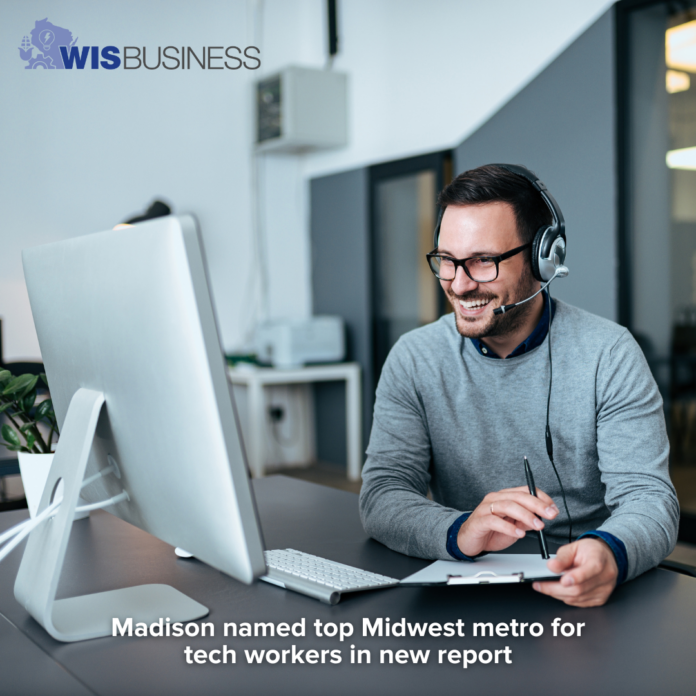 Madison has been named the top Midwestern metropolitan area for technology jobs, according to a recent report.
The rankings were compiled by a CommercialCafe, a real estate listing service that frequently produces market analyses and other industry reports.
Its latest post ranked the 20 best metro areas for tech development in the Midwest, placing Madison at the top based on nine different metrics. These include factors such as patents granted, unemployment rate, educational attainment and more.
Among the cities included in the analysis, Madison had the highest ratio of tech industry jobs, with 70.6 out of every 1,000 occupations in the area. The next highest, Des Moines, Iowa, had a ratio of 52.9 per 1,000.
Plus, tech professionals in Madison earn about $88,727 per year — the second highest median amount on the list after the sprawling Chicago-Naperville-Elgin metro area that spans parts of Illinois, Indiana and Wisconsin. That area had median tech earnings of $92,290.
Madison was ranked third for its tech business density, with 31.1 out of every 1,000 companies falling under that category.
"Here, the University of Wisconsin-Madison plays a key role in the metro's tech sector growth as it funnels well-educated graduates and professionals involved in cutting-edge research toward the various tech companies that call Madison home," report authors wrote.
That put the city just behind the Minneapolis-St. Paul-Bloomington metro area, with 31.2 per 1,000 companies. Ann Arbor, Mich., was ranked No. 1 for this measure with 46.4 per 1,000 companies.
See the report:
–By Alex Moe