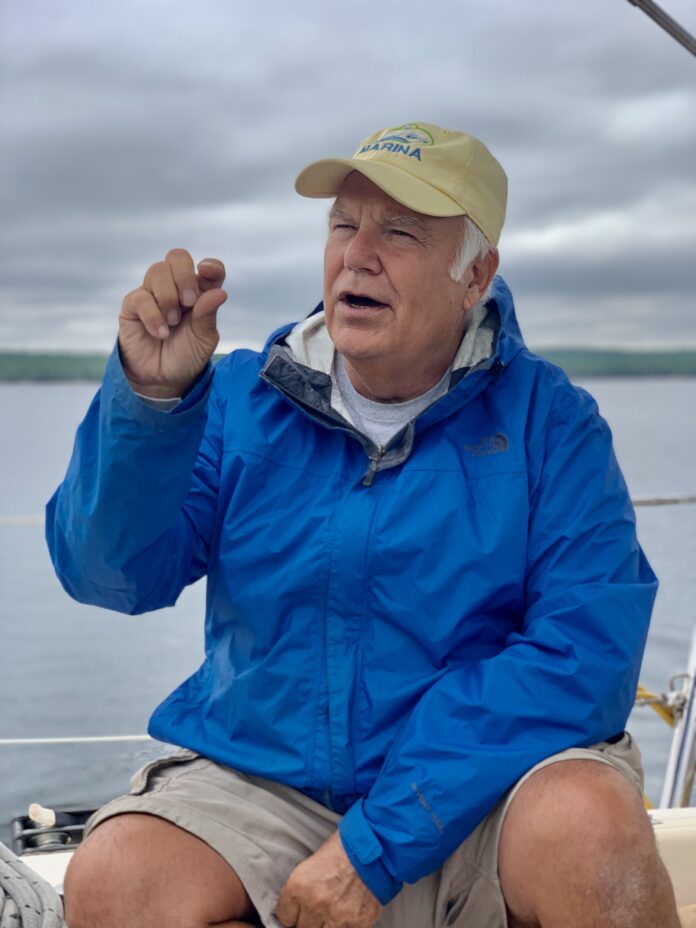 By Brian Clark
For WisBusiness.com
For nearly 20 years, Dan Siedlecki sat behind a desk at Madison-based CUNA Mutual Group, when he wasn't on the road.
For the most part, Siedlecki said he enjoyed his time with CUNA — which changed its name to TruStage in May of this year. He said he worked hard and traveled to all 50 states during his tenure as he rose to an assistant vice president with the company that provides insurance and investment services to credit unions and their members around the country.
"But I've always had an entrepreneurial bug," said Siedlecki, who lives in Middleton and now runs a sailboat charter business in Door County. He stepped down from his job at CUNA in 1997 to start his own home services company, which still exists.
"It was a nice long run and I made a lot of friends, but I left after CUNA merged'' with the Century Companies of Waverly, Iowa, he said.
"There was a changing of the guard and it was no longer fun. That's when I noticed that several younger guys I knew were starting their own companies and I figured I could do that, too. So I went out on my own."
Siedlecki, who grew up in the Detroit metro area and graduated from UW-Madison, ran his own painting business when he was in college. After he left CUNA, he launched a business called TIPLOK, which offers a variety of home services, including gutter cleaning, power washing, snow removal, tree trimming, lawn maintenance, fall yard clean up, debris removal and shrub trimming.
In recent years, his youngest son, Brock, has taken on many of the company's operations, so Siedlecki can spend more time sailing on the S/V DELIA out of Sturgeon Bay in the waters off Door County during the summer and fall. He also sails across Lake Michigan to Grand Traverse Bay. His 48-foot Jeanneau "Trinidad" sailboat, which was built in 1985, can sleep six guests in three staterooms and has two berths for crew. Its interior is trimmed in golden teak.
"And while DELIA isn't a glitzy, brand new boat, she's a seaworthy ol' gal with personality and a great spirit well suited for Lake Michigan's waters," he said of his yacht, which is now berthed at the Center Pointe Marina in Sturgeon Bay. "We always have a good time sailing her and telling her stories."
Siedlecki said TIPLOK grew by leaps and bounds soon after its launch.
"I actually got into the home service business by mistake," he recalled.
"Because I was in the gutter part of the phone book, people wanted me to clean their gutters," he recalled. "I said 'no' at first, but I got so many calls that I gave in and began to do that. And because I had run a painting business, I was familiar with being up on ladders.
"Now we do 800 gutter jobs a year. As the business blossomed, we got pulled into a lot of other things. When you clean gutters, you cut branches that are sticking into them. So we became tree trimmers. That morphed into a tree removal business.
"Then people asked us if we could do snow removal. And now we have 400 residential customers. It just kind of took off."
But what Siedlecki really wanted was some kind of lifestyle job, where he could follow his passion for sailing and scuba diving while earning enough money to offset the costs of maintaining a large yacht.
He said he got into sailing via scuba diving after he and his late wife, Mary, did several trips on catamaran sailboats that also included diving. Mary's middle name was Delia and the boat was named after her.
Siedlecki said he and his late spouse — also a CUNA executive — built a big house in the Bishop's Bay neighborhood on the north side of Lake Mendota.
The couple had talked about offering sailing and diving trips after they retired.
"That was going to be our thing, but then she got breast cancer," he said. "She battled it for about five years before it took her in 2000."
Siedlecki kept on with their plans, obtaining his Professional Association of Diving Instructors scuba instructor's certification in 2001. He also holds a U.S. Coast Guard Charter Captain's 100-ton license.
"I felt sorry for myself for a while and then decided to go on with what we had dreamed about doing together," he said.
He sailed in the Caribbean and began looking for his own boat, eventually finding the DELIA in Fort Lauderdale.
"I was trying to find a big catamaran with an air compressor for scuba diving because I really liked the whole 'cat' concept," he said. "But a good one would have cost me $1 million, while the DELIA was a fraction of that cost."
He tried to make a go of traveling between Wisconsin and Florida to run charter trips on the DELIA — while at the same time managing TIPLOK.
"I kept DELIA in Florida for the first year, thinking I could get down once a month to do a charter and teach people how to scuba dive and sail," he said
"But the business model didn't work out because it would take me around a week to get everything squared away for seven days of sailing and then almost another week to get things cleaned up," he said.
Moreover, dealing with mechanical problems from afar wasn't easy and salt water is hard on boats, he explained.
So he brought the boat up to Wisconsin, sailing north in the open Atlantic and then via the Intercoastal Waterway through Chesapeake Bay and then on to the Erie Canal to the Great Lakes. At one point, he anchored near the Statue of Liberty in New York Harbor. The five-week journey covered more than 2,500 miles.
"It was an awesome trip," said Siedlecki, who began offering charters in 2005.
He was also heavily involved with the University of Wisconsin Hoofers Sailing Club, teaching sailing classes and serving as the Cruising Keel Boat Captain for several years. He said he recently helped deliver a 42-foot private yacht from Antigua in the Leeward Islands of the Caribbean to the Port of Miami.
But his favorite places to sail are in the waters of Door County and Michigan's Grand Traverse Bay. The latter trips can be as long as 10 days.
"There are so many interesting ports of call, such as Fish Creek, Egg Harbor and Sister Bay just in Door County," he said.
"You can also go all the way up to Washington Island. And if you have time, continue on to the south shore of the UP and explore Fayette, where there's a restored village from the 1800s and a museum with charcoal burners that melted down rough iron ore into ingots for shipping down to mills."
Siedlecki always sails with his first mate, a handsome, three-year-old golden retriever aptly named "Sailor."
Though he's often asked to plan trips for passengers, take care of meals and other needs, he said he's more than happy to let them pick ports of call and restaurants where they might like to dine onshore. He can also drop anchor in a secluded harbor for a quiet night on the water.
"Ship's meals can run from gourmet cuisine to brats on the grill," he said. "You can participate as much as you want in the sailing or just sit back and enjoy the ride.
"What really drives my passion in doing this, though, is the joy I get out of sharing the experience of sailing with new guests. And it's really wonderful seeing Door County and the Grand Traverse Bay area from such a different perspective on the water, since most people only get to see it from the land."
For more information on sailing on the DELIA with Siedlecki and his first mate Sailor, see cruisediver.com. Fall season rates begin Sept. 16. He will be offering trips until the end of October.
— Clark is a Madison-based writer and photographer who also contributes to the LA Times and Chicago Tribune.