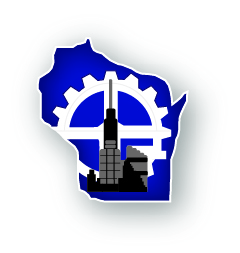 Forty-one percent of all Milwaukee workers are paid less than $15 per hour, according to a new report from a UW-Madison think tank.
In its "Facts from the Frontline" report, COWS highlights the declining share of manufacturing employees making up the region's workforce, as well as falling union membership and rising income inequality along racial lines.
The liberal-leaning research center interviewed and profiled a number of workers in the area's service industry and found many are demanding higher wages and more favorable schedules. COWS argues that "such change is possible only when workers have [a] voice in their jobs and the security allowed by a union contract."
Between 1979 and 2019, the gap between real median household income for Black and white Milwaukee residents rose from 40 percent to 60 percent, the report shows. Over the same period, the percentage of the region's workforce made up by manufacturing jobs plummeted from 40 percent to 12 percent.
And union membership among Milwaukee workers dropped from 24 percent to 12 percent, according to the report.
Using figures from the U.S. Census Bureau's American Community Survey, report authors found 41 percent of the city's 243,221 workers make less than $15 per hour. Those workers are much less likely to receive employer benefits such as health insurance. And they work 34 hours per week on average, compared to the standard 40 hours per week average for the other 59 percent of workers.
Report authors note the median age for workers in the lower income segment is 30 years, arguing that "goes against the popular narrative that teenagers or young adults are the primary holders" of such positions, many of which are in food service and retail. Plus, about one-third of those lower-paid workers are white, while more than half are Black or Hispanic.
The report notes three broad industry categories make up more than 60 percent of the jobs paying less than $15 per hour: educational services, health care and social assistance; arts, entertainment, recreation, accommodation and food services; and retail trade.
"For the past three years, the COVID-19 pandemic has exposed the essential nature of Milwaukee's frontline service jobs," report authors wrote. "Service work, especially the jobs highlighted in this report, could be a force to lift working people into the middle class and close Milwaukee's racial economic gap."
The report is part of the "EARN in the Midwest" project, which involves COWS, the Milwaukee Area Service and Hospitality Workers Organization and Kids Forward.
See the full report: https://cows.org/wp-content/uploads/sites/1368/2023/02/facts-from-the-frontline.pdf
Listen to a WisBusiness.com podcast with Laura Dresser, one of the report's authors and the associate director of COWS: https://www.wisbusiness.com/2022/wisbusiness-the-podcast-with-laura-dresser-of-cows/