May 5, 2022 — Four University of Wisconsin-River Falls alumni will be recognized Friday, May 6, at the 2022 UW-River Falls Evening of Excellence in the Riverview Ballroom, University Center.
Awards given will include the Distinguished Alumni Award, the Lifetime Achievement Award, the Outstanding Service Award and the Outstanding Young Alumni Award. The awards recognize UWRF alums and their accomplishments.
Distinguished Alumni Award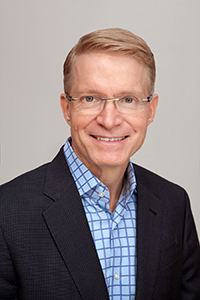 Paul Dykstra, a 1983 graduate in accounting, earned the Distinguished Alumni Award. Dykstra, who will speak at both UWRF commencement ceremonies on Saturday, May 7, is an independent board member and recent past chair, president and chief executive officer of Phoenix-based Viad Corp., a $1.1 billion New York Stock Exchange company with domestic and international operations in marketing and event services, travel and recreation service and formerly payment services.
Dykstra has been a member of the UWRF Foundation Board since 2017 and has chaired the investment committee for four years. He also served on the board previously from 1998 to 2003.
Before leading Viad, he was president and CEO of Global Experience Specialists, a $600M global exhibition and event company in Las Vegas. Before his time at GES, he served as the senior executive vice president for MoneyGram International, Inc. in the Twin Cities area, a $550M payment systems company. He has an MBA from the University of St. Thomas.
Dykstra was also a member of UWRF's first national team champion. The 1983 men's hockey team earned the NAIA national title and was inducted into the 2013 UWRF Athletic Hall of Fame. Dykstra also competed for the Falcon's men's golf team.
"Choosing the Distinguished Alumni is always such a rewarding experience for the External Relations Committee," said committee Chair Stacy Vollmers, an associate professor in the UWRF College of Business and Economics. "We have outstanding nominees each year, making a positive difference in the world around them. This year Paul Dykstra stood out for his significant contributions to business, the community and UWRF."
Established in 1959, the UWRF Distinguished Alumni Award is the most prestigious recognition of UWRF alumni accomplishments.
Lifetime Achievement Award
Ramona Raehsler received the Lifetime Achievement Award. Raehsler grew up in Rock Elm where she attended a two-room schoolhouse from first to eighth grade and later high school in Elmwood.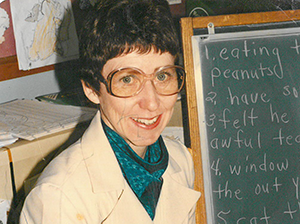 She knew she wanted to go into teaching when she was in high school. She would read to third grade students and enjoyed how loving and kind the children were.
Raehsler graduated from UWRF in 1971 with a degree in elementary education and then went on to earn two master's degrees from UWRF, one in education in 1987 and the other in school psychology in 1990. In 2019, she received the Faculty Recognition Award for the Sociology, Criminology and Anthropology Department at UWRF.
After 30 years of teaching, she is retired from St. Bridget Catholic School in River Falls.
The Lifetime Achievement Award recognizes the accomplishments of alumni who have provided long-time exceptional service and leadership in their profession, community, and continuing interest and loyalty to UW-River Falls. The UW-River Falls Alumni Association established this award in 2014.
Outstanding Service Award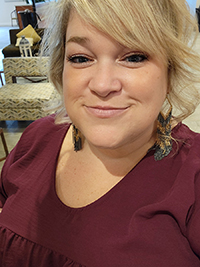 Katie Ryan Niznik, a 2010 UWRF sociology graduate, began her career that same year as an undergraduate children's services intern for Turningpoint for Victims of Domestic and Sexual Violence in River Falls and after the internship accepted a full-time position there. Over the years, Niznik has worked as a crisis advocate, volunteer services coordinator, legal advocate and sexual assault services coordinator. She is currently the sexual assault services director.
Niznik has been the UWRF campus victim advocate since 2016. She serves the campus community by facilitating training sessions on healthy relationships and consent, providing emotional support to student victims and survivors in the aftermath of sexual assault and assisting students with navigating the complicated Title IX process after an incident.
She has a master's degree in counseling and psychology from St. Mary's University in Minnesota.
Established in 1983, the Outstanding Service Award recognizes individuals and organizations outside of the university community who have made exemplary contributions to the University of Wisconsin-River Falls through their support of the university's goals and their volunteer efforts on our behalf.
Outstanding Young Alumni Award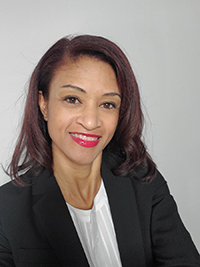 Sydney Hall Wittmier, a 2008 graduate in applied physics, is a senior project manager with Minneapolis-based Mortenson Construction in charge of quality control and project management in their Wind Energy Construction Project Division.
One of her largest projects has been as the assistant project manager for the construction of U.S. Bank Stadium in the Twin Cities. The structure is lauded for its translucent roof and walls, its ability to withstand and channel heavy snow loads and a retractable wall. It also was finished on budget and almost two months ahead of schedule.
She serves on the board of the Family Partnership. Wittmier volunteers with the Architecture Construction and Engineering (ACE) Mentor Program and Girls Taking Action, a mentorship program. She was the 2021 featured speaker at the Groundbreaking Women in Construction Conference and a Minneapolis/St. Paul Journal's 2022 "40 under 40" honoree.
Wittmier also has a bachelor's degree in civil engineering from the University of Minnesota.
The Outstanding Young Alumni Award recognizes the accomplishments of individuals who have excelled in professional and civic accomplishments within the last 15 years. The UWRF Alumni Association established this award in 2014.