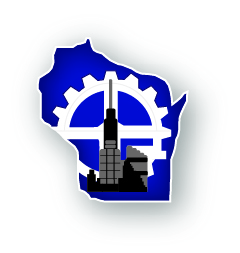 An expert in sustainability says investors can benefit from the global transition to net-zero carbon through investments in "clean technology" clusters.
"A lot of money is going to be spent on that net-zero transition," Wisconsin Sustainable Business Council founder Tom Eggert said yesterday during a Badger Talks webinar hosted by UW-Madison. "Smart investors stand to make a good bit of money by investing in sectors that will be key in this transition."
State officials have set a goal for Wisconsin to reach 100 percent carbon-free electricity consumption by 2050, according to a recent report from the Wisconsin Office of Sustainability and Clean Energy. And a White House fact sheet notes the 2050 target for carbon neutrality is "in line with what scientists have found is necessary globally to prevent catastrophic climate change."
In his remarks yesterday, Eggert highlighted a McKinsey report released earlier this year that detailed the costs and impacts of reaching global net-zero carbon emissions by 2050. That report estimates $9.2 trillion will need to be spent globally each year until that time to achieve that goal. That's about $275 trillion worth of investments in energy assets, land use changes, carbon reduction efforts and more, he said.
"Relative to the size of the global economy, we're talking 6 to 9 percent of economic output would need to be directed to this net-zero transition, which is a substantial impact," he said.
But he added that estimate includes investments already being made along with potential new spending. Of the $9.2 trillion annual figure, $3.7 trillion is already being spent on "high emission" assets such as power generation, buildings and transportation, while another $2 trillion is being spent on "low emission" assets such as renewable energy and electric vehicles.
Eggert gave an overview on a "thematic investment" strategy focused on bundles of stocks called exchange traded funds, or ETFs. Thematic ETFs include a number of stocks within a specific focus area, such as solar and wind energy production, electric vehicles, battery technologies, sustainable food systems and others.
"The advantage of investing in these bundles of stocks, in these ETFs, is that you don't have to pick the company that comes up with the best solution," he said. "It's not that, you know, if I don't pick the right company, I'm going to lose. You simply pick all of the companies working on the solution, so that whichever one wins, it's automatically part of your investment."
The latest report from the Intergovernmental Panel on Climate Change argued keeping global temperature increases below 1.5 degrees C will require action on "many different fronts," Eggert said. The 2015 Paris Agreement calls on countries to reduce their greenhouse gas emissions to keep global warming from exceeding this level, and Wisconsin's Clean Energy Plan aims to ensure the state is fulfilling the carbon reduction goals of the agreement.
"If you believe that there is going to be a role for businesses to position technologies and services they're providing on the cusp of some of these critical areas, then investing in some of those businesses becomes a really smart way to help shape the future," Eggert said.
Watch a video of the webinar here: https://wiseye.org/2022/07/19/badger-talks-live-investment-opportunities-of-climate-change/ 
–By Alex Moe