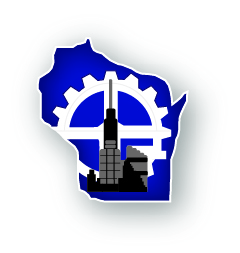 Fewer manufacturers in the state expect their revenues, profits and spending to rise this year, according to a recent survey.
The 2022 Wisconsin Manufacturing Report was commissioned by the Wisconsin Center for Manufacturing and Productivity in collaboration with WMEP Manufacturing Solutions and the UW-Stout Manufacturing Outreach Center. The organizations held a presentation yesterday in Brookfield to announce their findings.
"Across gross revenues, profitability and capital expenditures, the percentage who expect to see increases this year are down from where it was a year ago," Rob Autry, a pollster with research group Meeting Street Insights, said during yesterday's event. This group presented the survey results on behalf of the WCMP.
For gross revenues, the percentage of survey respondents expecting an increase fell from 44 percent in the 2021 survey to 38 percent in this year's survey. For profitability, the percentage fell from 38 percent to 28 percent. And capital expenditures saw the largest drop, from 54 percent last year to 41 percent.
Autry added manufacturers with lower revenues saw a much larger decline in expectations for revenue. He noted 28 percent of those with less than $1 million in annual revenue expect their revenue to rise this year, versus 46 percent in the 2021 survey.
For manufacturers with revenue between $1 million and $5 million, the percentage expecting an increase fell from 52 percent to 34 percent. And for those with revenue above $5 million, the percentage only fell from 70 percent to 64 percent.
For each of these categories, expectations for profitability were also lower this year, the survey found.
Along with these changes, manufacturers tapped for the survey were also asked about the trajectory of the state's economy. In the previous survey, 40 percent said it's growing, 34 percent said it's mostly flat, 14 percent said it's slowing down and 8 percent said a recession was occurring.
By comparison, 20 percent of this year's respondents said the state economy is growing, 28 percent said it's mostly flat, 22 percent said it's slowing down and 28 percent said a recession is occurring. But despite those concerns, manufacturing executives' confidence in their own companies was unshaken.
In the 2021 survey, 86 percent expressed confidence in their company's financial future, including 39 percent who were very confident. Thirteen percent said they were not confident. And in this year's survey, 86 percent again said they're confident — including 41 percent who said they're very confident. Once again, 13 percent said they're not confident.
"Maybe the state's business direction is not as solid as it was a year ago, the economy is not as great," Autry said. "But manufacturers are certainly just as confident about the future of their firm as they were a year ago."
The survey also asked respondents about their top concerns this year. While the cost of materials and workforce challenges were both major concerns both this year and the last, energy costs saw the largest jump in concern. More respondents also said they're worried about inflation.
Buckley Brinkman, the executive director and CEO of the WCMP, told attendees that manufacturers should be employing an "all the above" strategy for attracting talent while making technology a "key part" of their growth strategy.
"We're consistently finding 15 to 25 percent of companies that are under some pretty severe stress," he said yesterday. "And in this particular study, we saw these measurements where that was coming out … We're not sure yet what that means — whether that's just the normal turnover of businesses, or whether we really have a systemic problem in manufacturing in Wisconsin. We'll be looking to explore that more as we go forward."
The second annual survey was conducted by phone with 400 manufacturing executives between July 29 and Aug. 23, and study authors also held five focus groups in September. Four were held in-person in Menomonie, Green Bay, Madison and Brookfield and another was held virtually.
See the full report: https://www.wicmp.org/wp-content/uploads/2022/10/2022-WI-Manufacturing-Report.pdf 
–By Alex Moe